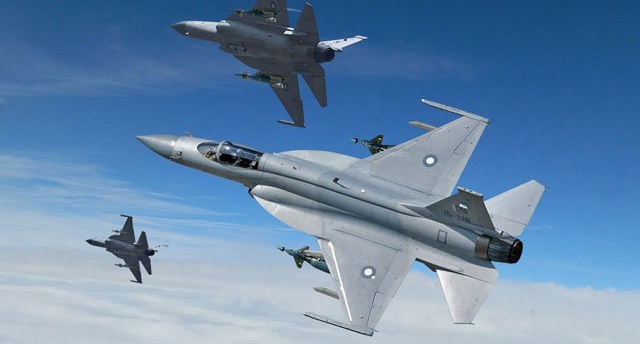 Pakistan's government has provided a $184.3 million sovereign guarantee for the sale of three JF-17 fighters to Nigeria.
Pakistan now has its second international customer for its domestically assembled JF-17 "Thunder" multirole fighter jet after Myanmar.
Pakistani government's Economic Coordination Committee (ECC) has approved sovereign guarantee certificate over the sale of three JF-17 jets to Nigeria for a sum of $184.3 million, a local media reports.
Nigeria and Pakistan had recently signed an agreement over the sale of JF-17's for the Nigerian Air force.
Country's Ministry of Defence Production informed the economic decision-making committee that the PAC Kamra had signed a contract for the sale of three JF-17 aircraft and associated package to Nigerian Air Force.
Nigerian authorities had been informed that the Government of Pakistan would issue a certificate of sovereign guarantee rather than a certificate of sovereign bank guarantee, and the Nigerians had agreed to it, the ministry was told.
JF-17
JF-17 "Thunder" multirole fighter is a single engine, lightweight, multipurpose combat aircraft that was developed jointly by Chengdu Aircraft Industry Corporation (CAC) of China and Pakistan Aeronautical Complex (PAC) of Pakistan. It has a combat radius of up to 1,200 kilometers without refueling and can reach a maximum speed of up to Mach 1.6.
The medium-sized aircraft is built mainly to meet the needs of the Pakistan Air Force (PAF) and will replace its current aging fleet of Nanchang A-5, Chengdu F-7P / PG and Dassault Mirage III / V fighter aircraft.
The aircraft is capable of carrying a weapons payload of over 3.5 tons and can be armed with a variety of air-to-air, air-to-surface, and anti-ship missiles.