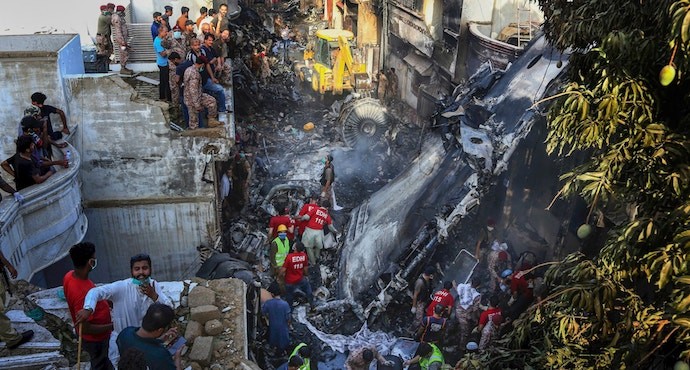 Air disaster in Pakistan killed at least 97 passengers and crew members
At least 97 people have been killed after a Pakistan International Airlines (PIA) flight crashed Friday in the southern city of Karachi, officials reported. Only two people miraculously survived the tragic accident.
Pakistan International Airlines (PIA) flight PK-8303 was flying from Lahore to Karachi when it went down around 09:45 GMT on May 22. The Airbus A320, which had 99 people aboard, crashed into a crowded residential area.
Moments before declaring, "Mayday, mayday!", the pilot reported to the air traffic controller of having lost engines as he attempted to land twice.
"The black box had been found .. we are handing it over to the inquiry board," PIA spokesman Abdullah Khan said on Saturday, adding that both the flight data recorder and cockpit voice recorder were located.
One of the two surviving passengers, Muhammad Zubair, said it was a smooth flight until the aircraft began its descent at Karachi airport. "Suddenly the plane jerked violently" after which the pilot announced that they were experiencing engine trouble and the landing could be "troublesome", Zubair shared with media. The last thing he remembered was " smoke and fire and people crying."
Pakistan's Prime Minister Imran Khan has ordered an inquiry, and the country's Safety Investigation Board, comprising senior air force and aviation officials, would leading the investigation. Airbus will also send its investigation team.
The crash comes a day before Eid al-Fitr, the Muslim holiday marking the end of month of Ramadan, when people reunite with families.