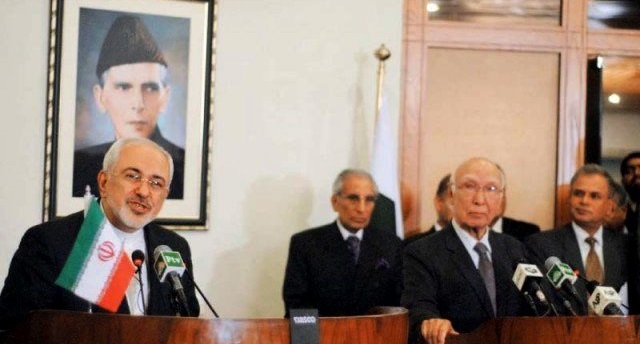 Islamabad and Tehran ready to continue their efforts for peaceful resolution of Yemen crisis
ISLAMABAD (Pakistan) — Tehran and Islamabad have agreed that dialogue is the best way to resolve the Yemen conflict, in which Houthi rebels have clashed with forces loyal to the country's internationally backed president, Abd-Rabbu Mansour Hadi.
Iranian Foreign Minister Mohammad Javad Zarif said that Pakistan and Iran should cooperate to solve the deepening crisis in war-ravaged Yemen.
Mr. Javad Zarif arrived in Pakistan on Wednesday for a two-day visit amid heightened regional diplomacy over Yemen in an effort by both countries to find a diplomatic solution to the crisis in Yemen. Soon after arrival, Zarif met adviser to the PM on Foreign Affairs Sartaj Aziz and shared details of the Iran-Turkey talks held in Tehran.
Addressing a joint press conference with Mr. Aziz, Mr. Zarif said Pakistan and Iran should cooperate to solve the crisis in Yemen.
"We need to work together to find a political solution," Iranian Foreign Minister, Mohammad Javad Zarif Zarif, said during a visit to the Pakistani capital in which he was expected to urge Pakistan to reject the Saudi request to join a military operation against Houthi forces in Yemen.
Responding to a question, Zarif said his talks with Turkey, Oman, and now Pakistan revolved around four major lines: "ceasefire, humanitarian assistance, intra-Yemeni dialogue and broad-based government."
"It is up to Yemen how it wants to do it. We can only facilitate as countries in the region… but these are the four lines on which my [Iran's] government has been operating," said the Iranian foreign minister.
"The people of Yemen should not have to face aerial bombardment," he said.
Speaking on the occasion, Sartaj Aziz said a ceasefire alone will not be a solution to the problem in Yemen. "A more comprehensive resolution on facilitating an intra-Yemeni dialogue, which is also approved by the United Nations, can help in finding a political settlement to this tragic situation," said Aziz.
Pakistan on Thursday clarified that there is no disagreement between Pakistan and Iran to resolve the issue of Yemen as both the countries are willing to resolve it through political dialogue and want peaceful solution to the issue.
In her weekly press briefing in Islamabad, Pakistan's Foreign Office Spokesperson Tasnim Aslam said, "Pakistan and Iran are ready to continue their efforts for peaceful resolution of Yemen crisis." She said that the Iranian Foreign Minister Javad Zarif who is visiting Pakistan had held detailed discussions with Pakistani leadership and exchanged views on regional situation especially the Yemen crisis and its possible solutions.
Responding a question, Ms. Tasnim Aslam said, "Pakistan wants an early end of war in Yemen. In this regard Pakistan is in touch with different Islamic countries including Saudi Arabia, Turkey, Oman, Iran and other countries."
Meanwhile, Saudi Arabia has asked Pakistan to send planes, boats and troops to the operation. Pakistani lawmakers have been debating the request for the past three days, and not one has spoken in favor of intervention in Yemen. Pakistan, so far, has delayed giving a clear answer to Saudi Arabia's request.
The United Nations says Yemen faces a humanitarian emergency and that schools, hospitals, and water and power infrastructure have been damaged by air strikes. More than 500 people have been killed in Yemen in the last two weeks, the U.N. said. Most were civilians, including 74 children.