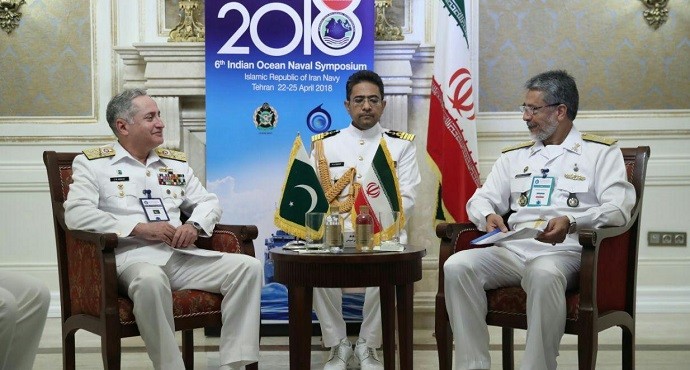 Pakistan and Iran Navies to hold joint drills
Pakistan and Iran armed forces are looking towards enhancing the level of cooperation and the navies of the two countries are expected to hold joint drills in 2018.
The information was shared as Iran's Islamic Revolution Guards Corps (IRGC) Navy Commander Rear Admiral Ali Fadavi held a meeting with Pakistan's Navy Commander Admiral Zafar Mahmoud on the sidelines of Indian Ocean Naval Symposium (IONS) being held from 23-25 Apr 18 in Tehran.
During the visit, the Naval Chief also held meetings with Deputy Commander of Iran Army, Vice Admiral Habib Ullah Siyari and Commander of Iranian Navy, Rear Admiral Hossein Khanzadi in separate meetings.
During the meeting, matters of mutual interest including bilateral naval collaboration and security environment in Indian Ocean Region were dilated upon.
Both dignitaries also discussed avenues to enhance bilateral cooperation between both navies in the field of training, provision of technical manpower and expertise. Commander of Iranian Navy acknowledged the need and significance of close and strong bilateral naval association in diverse realms between Pakistan Navy and Iranian Navy.
The two chiefs also agreed to enhance bilateral collaboration between Pakistan and Iran in general and defense related avenues in particular.