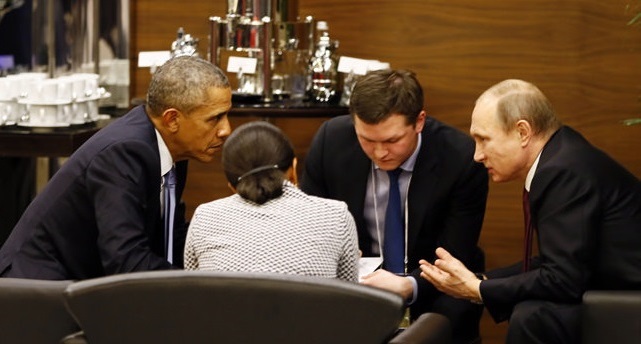 ANTALYA, (Turkey) – US President Barack Obama and Russian President Vladimir Putin agreed on Sunday on the need for UN-sponsored peace talks and a ceasefire to resolve years of war in Syria, a White House official said.
The two leaders sat down for crucial talks on the sidelines of the G20 summit as both countries pledged to eliminate ISIS and end the Syrian war that has fueled its rise.
Their huddle over a coffee table in Antalya, Turkey, on Sunday came after Friday's horrific coordinated attacks in Paris that left 129 people dead and hundreds injured.
The two leaders chatted in a foursome with Obama's national security adviser Susan Rice and a Russian aide.
A White House official later on said that the two leaders held "a constructive discussion" on Syria and agreed on the need for UN-negotiated Syria talks and ceasefire.
"President Obama and President Putin agreed on the need for a Syrian-led and Syrian-owned political transition, which would be proceeded by UN-mediated negotiations between the Syrian opposition and regime as well a ceasefire," the official told reporters after the leaders met.
But Kremlin said Sunday that the differences remain between the U.S. and Russia on Syrian policy.
They also discussed a new proposal to end the Syrian conflict and Obama's hope that Russia's airstrikes in Syria will focus on IS, not opposition groups fighting Syrian President Bashar Assad
Reporters, however, were not allowed in for the meeting, which took place during a working lunch for leaders attending the summit.