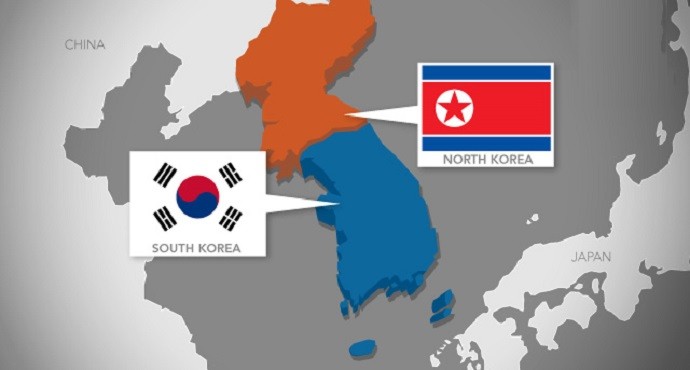 North and South Korea prepared to declare the end of war after 68 years with a peace treaty
The 68-year war between North and South Korea may come to an official end next week as the countries' leaders are reportedly planning to announce a peace treaty.
At next week's summit between South Korea President Moon Jae-in and North Korea leader Kim Jong Un, the two neighbors may release a joint statement saying they will seek to ease military tension and to end confrontation, according to the report.
A direct phone line between Moon and Kim may be connected around Friday, Moon's chief of staff, Im Jong-seok, told a briefing Tuesday, adding that it hadn't been decided when they would hold their first conversation.
The South Korean newspaper Munhwa Ilbo cited an unnamed intelligence source as saying the summit scheduled for April 27 — the first time the leaders will meet face-to-face — could result in a peace announcement.
"Ending the state of conflict is the core of the whole thing. Peace is as complicated as denuclearisation," John Delury, an associate professor of Chinese studies at Yonsei University in Seoul, told Bloomberg.
"There also has to be a process of actually delivering the peace," he added.
Pyongyang and Seoul have technically been at war since the 1950-1953 Korean conflict ended with a truce.
The news of reconciliation is followed by a display of fused tensions between the two Koreas at the Winter Olympics.
Since then, Kim is said to have expressed an unprecedented willingness to talk with South Korea and discuss denuclearization with the US. Kim also traveled outside North Korea for the first time since assuming power in 2011, meeting with Chinese President Xi Jinping.
North Korea has recently seen diplomatic delegations and K-pop bands visit.
North Korea also sent Kim's sister to the Olympics and upgraded the status of his wife, Ri Sol Ju, from "comrade" to "revered first lady" in a what could be a bid to create a cult of personality around her.