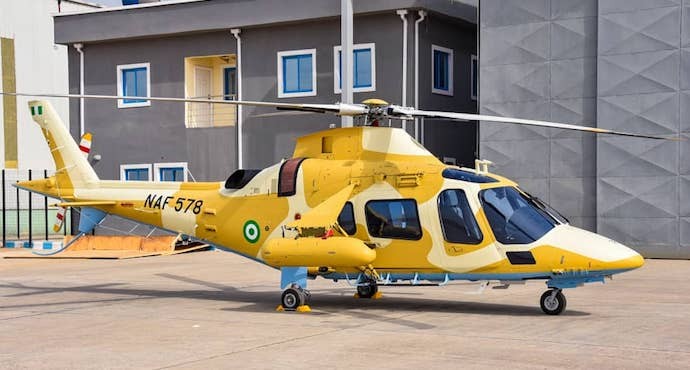 Nigerian Air Force inducts three helicopters to re-equip military
Africa, News
February 7, 2020
No Comments
The Nigerian Air Force (NAF) inducted three new helicopters to its fleet including one Mi-171E and two Augusta 109 Power helicopters on February 6 in a high-profile ceremony in Abuja attended by President Buhari.
Speaking at the ceremony, the Nigerian President Muhammadu Buhari said the military will be re-professionalized and re-equipped to meet the growing exigencies of security in the country, assuring citizens that the promise of ending terrorism would soon be realized.
"We promise to re-professionalize and re-equip the armed forces and security agencies to effectively discharge their duties to our nation," Buhari said. He vowed to put an end to Boko Haram insurgency, kidnapping and other forms of criminality in the country.
"Professionalism, capacity building and adequately equipping the armed forces and other security agencies are a major policy thrust of the administration," the president said.
The Nigerian President expressed his gratitude for the governments of Italy and the Russian Federation at sustaining the strategic partnership between our countries.
Over the last decade, Nigeria has ordered a number of Mi-series helicopters from Belarus and Russia.
The Chief of Air Staff, Air Marshal Sadique Abubakar, said Buhari's government has so far procured and inducted 22 aircraft and is expecting to receive 17 additional platforms including 12 Super Tucanos from the United States.
"This fight against insurgency and terrorism couldn't have been possible without the provision of modern war platforms and equipment sophisticated enough to guarantee the safety of the communities where these asymmetric wars are perpetrated," he said.