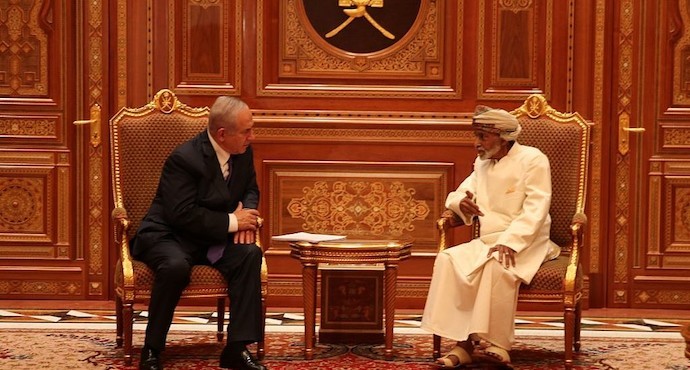 Israel's Benjamin Netanyahu pays surprise visit to Oman which has no diplomatic ties with Israel
In a dramatic sign of warming ties, Israeli Prime Minister Benjamin Netanyahu on Friday made a surprise visit to Oman, an Arab Muslim state which has no diplomatic ties with Israel.
The meeting was the first of its kind between leaders of the two countries since 1996.
Netanyahu was accompanied on Friday by senior officials, including the head of the Mossad intelligence agency and his national security adviser.
Netanyahu's visit came days after an official visit by Palestinian President Mahmoud Abbas to Oman, which neighbors Iran.
The two sides discussed ways to achieve "peace and stability in the Middle East," according to Israel's PM Office which added that "the prime minister's visit is a significant step in implementing the policy outlined by Prime Minister Netanyahu on deepening relations with the states of the region while leveraging Israel's advantages in security, technology and economic matters."
In a related development, Iran's northern neighbor, Azerbaijan's armed forces arrived in Israel for his first official visit and Azerbaijani Chief of General Staff Najmaddin Sadigov met with his Israeli counterpart, Lt. Gen. Gadi Eisenkot and other senior Israel Defense Forces officials.
The decision to send the Azerbaijani chief of general staff for an official visit to Israel is "perceived in Jerusalem as a clear message being sent to Tehran" according to Haaretz.
Oman says it's time to accept Israel in region
Oman described Israel as an accepted Middle East state, a day after the Israeli prime minister returned home from a visit to Muscat
"Israel is a state present in the region, and we all understand this," Oman's foreign minister, Yusuf bin Alawi bin Abdullah said.
"The world is also aware of this fact. Maybe it is time for Israel to be treated the same [as other states] and also bare the same obligations."
Alawi bin Abdullah said that the Sultanate does not play the role of mediator between the Palestinians and Israel, but is offering ideas to help them to come together.