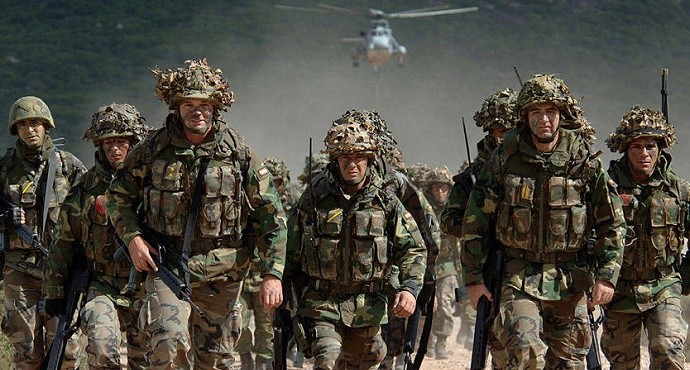 NATO puts 300,000 troops on 'high alert' as tensions with Russia intensify
Europe, News
November 8, 2016
No Comments
Nearly 300,000 NATO troops have been put on a higher alert as tensions between Russia and the Baltic States intensify.
NATO troops will be put on a higher state of alert because of increasing tensions with Vladimir Putin and Russia, military chiefs have warned.
NATO commanders are preparing a 'substantial force' capable of deterring Russian aggression, according to secretary general Jens Stoltenberg.
Jens Stoltenberg, the alliance's secretary-general, did not give precise figures, but Sir Adam Thomson, Britain's outgoing permanent representative to NATO, said he thought that the goal was to speed up the response time of up to 300,000 military personnel which could be mobilised within a few months.
It would come in addition to NATO's response force which can be deployed to a warzone within days.
Commanders are also set to prepare a huge land force to terrify the Russians into not showing aggression.
The heightened state of alert is in direct response to Russia's own display of military might in recent times, and particularly over its intervention in war-torn Syria.
Russia has provided a large amount of weaponry and specialized equipment to Syrian President Bashar al-Assad, who has used it to quell rebel forces in Aleppo and elsewhere.
"We have seen Russia being much more active in many different ways", Mr. Stoltenberg said.
"We have seen a more assertive Russia implementing a substantial military build-up over many years; tripling defence spending since 2000 in real terms; developing new military capabilities; exercising their forces and using military force against neighbours."
"We have also seen Russia using propaganda in Europe among Nato allies and that is exactly the reason why Nato is responding", he told The Times.
"We are responding with the biggest reinforcement of our collective defence since the end of the Cold War."
NATO analysts also fear that Russia may attempt the annexation of Baltic states such as Lithuania or Latvia, just like it did in Crimea two years ago. Such move could have grave repercussions indeed for the geo-political stability in Europe.
Britain is sending a total of 800 troops, drones and tanks are moving to Estonia next spring, Defence Secretary Michael Fallon said.
Mr Fallon said the deployment of the battalion, supported by French and Danish troops, will start from May 2017.
"Although we are leaving the European Union, we will be doing more to help secure the eastern and southern flanks of NATO," Mr Fallon said.
Last week, it was reported Russian troops were planning to conduct military training exercises in Serbia involving 150 paratroopers, while Nato holds an emergency exercise drill in neighbouring Montenegro.