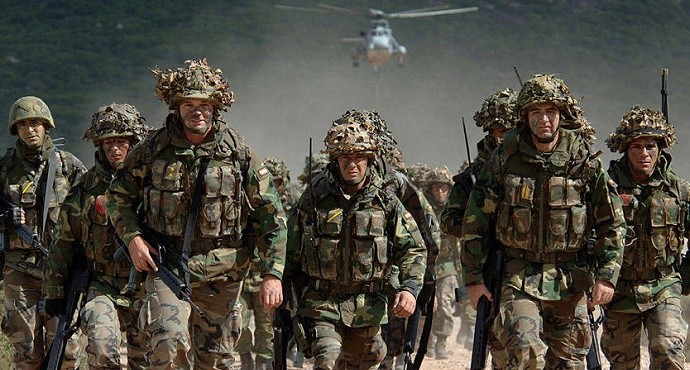 NATO and its allies will hold their biggest military exercise in more than a decade from October, deploying 36,000 personnel across the Mediterranean to counter the threat of Islamic State on the alliance's southern flank.
Officials said on Wednesday that the exercise, named Trident Juncture 2015, has been planned for years, but is being held now to test NATO's ability to respond to new security threats posed by Russia's takeover of Crimea and spread of militant groups like Islamic State of Iraq and Syria (ISIS) in the Mideast and North Africa.
Trident Juncture 2015 drills will take place from September 28 to November 6 in Spain, Italy, Portugal as well as in the Mediterranean Sea and the Atlantic Ocean, according to news release by NATO.
The aim of the drills is to train and test the NATO Response Force, a high readiness and technologically advanced unit comprising of land, air, maritime forces.
"The purpose of the Exercise is to train and test the NATO Response Force, a highly ready and technologically advanced multinational force comprising land, air, maritime and Special Forces components," said General Hans Lothar Domröse, the Commander of Joint Force Command Brunssum.
"Enhancing our response forces is a key part of NATO's overall effort to adapt to emerging security challenges. Trident Juncture 2015 has been designed to ensure that our concepts and procedures will work in the event of a real crisis because our job is to always be prepared to defend the people, territory, and values of this Alliance" he added.
British Army Lt. Gen. Phil Jones said for NATO, "the challenge is to make sure that we as military, we're never fighting the last war, whether the last war was 10 years ago or 10 minutes ago."
It is expected that over 36,000 military personnel from 30 countries, including NATO member-states and seven partners, namely Australia, Austria, Bosnia and Herzegovina, Finland, Macedonia, Sweden and Ukraine, will participate in the drills.
More than 12 major international organizations, aid agencies and non-governmental organizations, including European Union and the African Union will also participate in the exercise.
Exercise Trident Juncture 2015, the Alliance's most important exercise in 2015 and a flagship activity for NATO's Connected Forces Initiative (CFI), is the largest exercise conducted by the Alliance since 2002. Trident Juncture 2015 will have two parts:
Command Post Exercise (CPX) for Strategic and Operational level staff training, evaluation and certification (3-16 October);
Live Exercise (LIVEX) for Tactical level troops engagements (21 October – 06 November).
According to NATO Backgrounder on Trident Juncture 2015 participants of the Command Post Exercise are:
Allied Joint Force Command Headquarters Brunssum;
Spanish NATO Rapid Deployable Corps;
United Kingdom Maritime Force;
Italian Joint Force Air Component Command;
United States Special Operations Command Europe;
Joint Logistics Support Group from Allied Joint Force Command
Headquarters Brunssum
Multinational CBRN Battalion led by Poland;
German led Operational Communications Task Force;
More than a dozen of International Organizations, Aid Agencies and Non-Governmental Organizations.
Participants of the Live Exercise are:
36,000 personnel;
4 Brigade Size Units;
More than 60 ships and submarines;
Over 140 aircraft.
Overall, more than 230 different Units (Land, Air, Maritime, SOF, CBRN, Logistics) and equipment types will participate in the exercise.