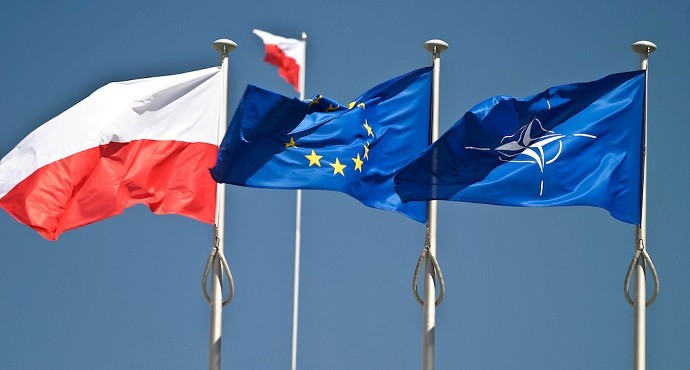 NATO opens counterespionage hub in Krakow as Russia tensions heat up
NATO states have opened a Counterintelligence Centre of Excellence in Krakow, Poland, on Thursday in a bid to strengthen the 29-member military alliance.
The centre is a Polish-Slovak initiative supported by Hungary, Romania, Croatia, Slovenia, Lithuania, Germany, Italy and the Czech Republic.
The new counterespionage hub is aimed at expanding the alliance's intelligence-gathering capabilities amid tensions with Russia, a senior Polish official said.
NATO states will work together at the center to gather intelligence and improve the alliance's capabilities amid rising tensions with Russia.
The new facility in the southern city of Krakow is focused on "developing the basic norms, principles and activities" for the spy agencies of NATO allies, Defense Minister Antoni Macierewicz said during opening ceremonies at the venue attended by his Hungarian, Romanian and Slovak counterparts.
Espionage now "covers all areas of life," affecting the military and critical civilian infrastructure via both cybertools and conventional spying, Macierewicz added, quoted by the Polish PAP news agency.
NATO's Counterintelligence Centre of Excellence was formally endorsed in 2015 at talks in the alliance's Allied Command Transformation facility in Norfolk, Virginia.
The new venue was announced as NATO's relations with Russia have hit their lowest point since the Cold War over the conflict in Ukraine, leading to an increase in spying claims.
The U.S.-led alliance has also bolstered its forces in Eastern Europe with four international battalions acting as tripwires against possible Russian adventurism in the region.
Meanwhile, the U.S. Army set up a new European headquarters in Poland in May to command some 6,000 of its troops deployed in NATO and Pentagon operations across the alliance's eastern flank since the beginning of the year.
NATO already has 21 other Centres of Excellence dotted across its 28 members for a wide range of activities from cyberdefense and military medicine to counterterrorism.