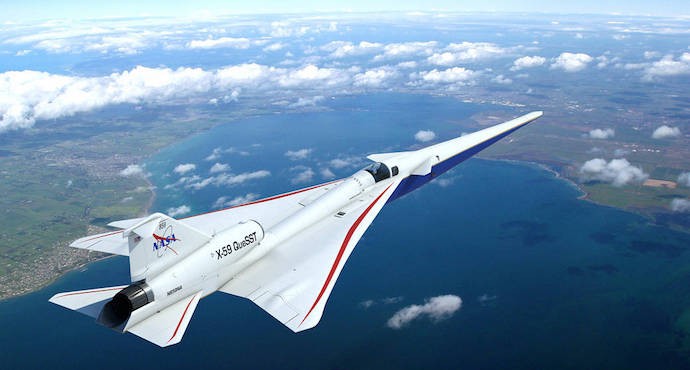 NASA's X-59 supersonic jet cleared for final assembly
News, US
December 17, 2019
No Comments
Zoom without the boom: Nasa's X-59 quiet supersonic technology aircraft enters final assembly
NASA's first large scale piloted X-plane in more than three decades is cleared for final assembly and integration of its systems following a major project review at NASA Headquarters in Washington.
"With the completion of KDP-D we've shown the project is on schedule, it's well planned and on track. We have everything in place to continue this historic research mission for the nation's air-traveling public," said Bob Pearce, NASA's associate administrator for Aeronautics.
NASA's X-59 QueSST (short for Quiet SuperSonic Technology) is an experimental piloted aircraft designed to fly faster than sound without producing the sonic booms. To be precise, it creates a sound about as loud as a car door closing, 75 Perceived Level decibel (PLdB), making it the first low-boom supersonic plane.
It is NASA's first large-scale, piloted x-plane (or experimental aircraft) in more than three decades with the goal is to reduce the loudness of a sonic boom to more of a sonic thump.
The design features no front-facing cockpit window as cameras will feed the forward view to a 4K ultra-high-resolution monitor in the cockpit.
It is designed to cruise at 55,000 feet at a speed of Mach 1.4 (940mph).
Scheduled to fly in 2021, the construction of the aircraft, under a $247.5 million cost-plus-incentive-fee contract, is continuing at Lockheed Martin Aeronautics Company's Skunk Works factory in California.
X-59 specifications
Length: 94 feet (29 metres)
Wingspan: 29.5 feet (9.0 metres)
Max. airspeed: Mach 1.4 (940 mph)
Program cost: $247.5 million