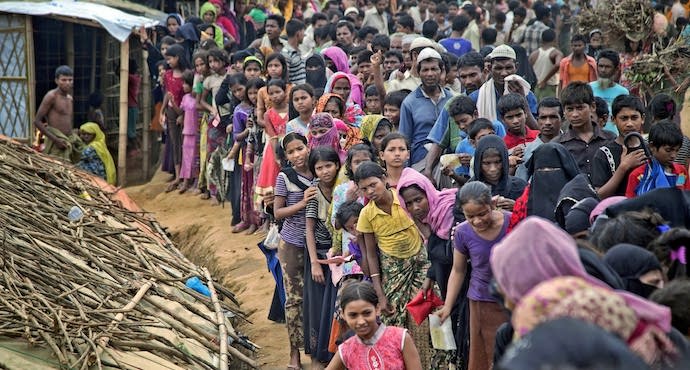 Myanmar rejects UN report accusing its military of genocide and other atrocities
The United Nations issued a new report about violence against the Rohingyas in Myanmar, saying the country's top military generals should be investigated for genocide. Myanmar, however, rejected the report.
Speaking "with a heavy heart" one day after the release ofreport, UN Secretary-General António Guterres, called for those behind the Rohingya crisis to be held accountable, urging the security council to act on what has become "one of the world's worst humanitarian and human rights crises".
The UN report, released on Monday,accused Myanmar's military of carrying out mass killings and gang rapes with "genocidal intent". It said top military figures in Myanmar must be investigated for genocide in Rakhine state and crimes against humanity in other areas.
The report, based on hundreds of interviews, is the strongest condemnation from the UN so far of violence against Rohingya Muslims.
It says the army's tactics are "grossly disproportionate to actual security threats".
The report names six senior military figures it believes should go on trial and sharply criticises Myanmar's de facto leader, Nobel Peace Prize laureate Aung San Suu Kyi, for failing to intervene to stop attacks.
Several countries, including the United States, called on Tuesday (Aug 28) for Myanmar military leaders accused of orchestrating the repression of the country's Rohingya minority to be brought before international justice.
"The facts of the ethnic cleansing of the Rohingya must be said, and they must be heard," said Nikki Haley, the US ambassador to the United Nations.
However, Myanmar denounced the findings of a UN inquiry alleging genocide by its military against the Rohingya, in a strident government response to a damning report on the crisis.
"We didn't allow the FFM [the UN Fact-Finding Mission] to enter into Myanmar, that's why we don't agree and accept any resolutions made by the Human Rights Council," government spokesman Zaw Htay said according to the state-run Global New Light of Myanmar newspaper.
At least 700,000 Rohingya fled violence in the country in the past 12 months.