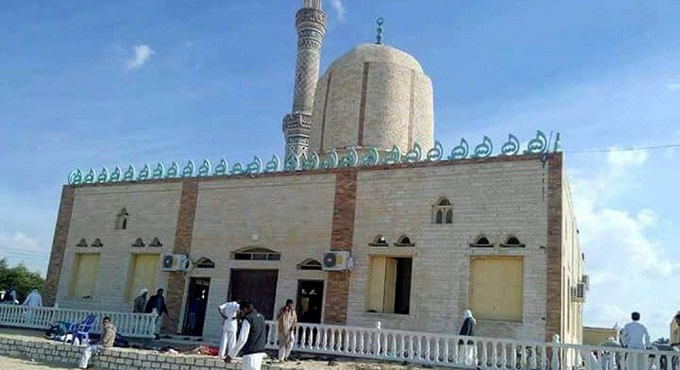 At least 235 people killed and another 109 injured in the attack on a mosque in Egypt's North Sinai region
At least 235 people were killed on Friday when militants attacked a mosque in Egypt's North Sinai region in one of the deadliest attacks in the country's modern history.
Another 109 people were injured, the official MENA news agency said.
It was the largest single attack targeting Egyptian civilians and the first on a large mosque since the militants began their campaign of terror in 2013.
State media showed images of bloodied victims and bodies covered in blankets inside the Al Rawdah mosque in Bir al-Abed, west of El Arish, the main city in North Sinai.
Around 50 ambulances were transferring victims to hospitals, according to the Ministry of Health. A statement issued by Egypt's General Prosecutor Nabil Sadiq put the death toll at 235, with at least 109 others wounded.
A Health Ministry official told Al Jazeera TV that "there were many people inside the mosque — it's only a small mosque."
Ahram Online reported that improved explosive devices were detonated at the mosque initially, then gunmen fired at worshippers, including targeting ambulances transferring the injured to hospital.
President Abdel-Fattah el-Sissi declared three days of mourning and called a meeting of security officials after the attack.