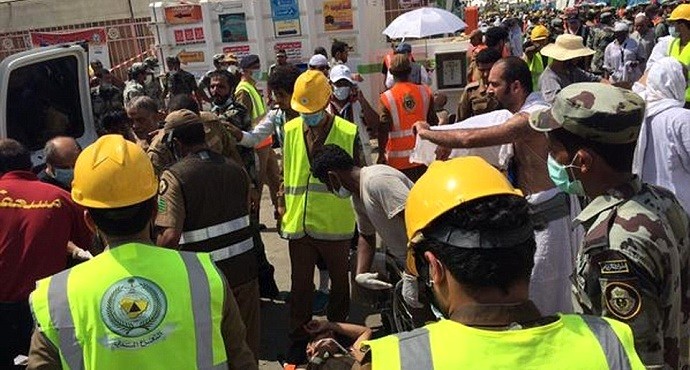 More than 700 people are crushed to death and 850 injured in stampede during Muslim Hajj pilgrimage in Saudi Arabia
MINA (Saudi Arabia) – According to latest reports, at least 717 people have been killed and more than 800 injured in a stampede near the Islamic holy city of Mecca, according to Saudi Arabia officials.
The worst disaster to strike the annual hajj pilgrimage in Mecca in 25 years, occurred as two million pilgrims were taking part in the Hajj's last major rite.
The Hajj pilgrimage, the world's largest annual gathering of people, has been the scene of deadly disasters in the past, including stampedes, tent fires and riots.
The Saudi government has spent billions of dollars upgrading and expanding haj infrastructure and crowd control technology in recent years.
The last big deadly incident took place in January 2006 when at least 346 pilgrims died in a stampede.
It was not immediately clear what had caused the stampede. But photographs published on Saudi civil defence Twitter feed showed pilgrims lying on stretchers while emergency workers in high-visibility jackets lifted them into an ambulance.
"Work is underway to separate large groups of people and direct pilgrims to alternative routes," the Saudi Civil Defence said on its Twitter account.
Earlier on September 12, a massive construction crane crashed into Makkah's Grand Mosque in stormy weather, killing at least 108 people and injuring scores others, Saudi authorities said, less than a fortnight before the Hajj pilgrimage starts.
The ritual emulates the Prophet Abraham, who is said to have stoned the devil at three locations when he tried to dissuade Abraham from God's order to sacrifice his son Ishmael. At the last moment, God spares the boy, sending a sheep to be sacrificed in his place.
The world's Muslims commemorated Abraham's willingness to sacrifice his son by slaughtering cows, sheep and other animals on Thursday.
Source: Agencies
Note: The news has been edited as the latest information came in from Saudi officials.