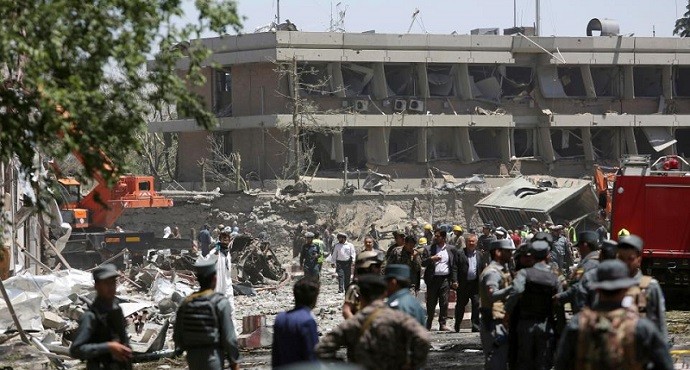 Huge bomb blast rips through heart of Kabul's diplomatic quarter killing at least 80
A powerful bomb exploded in the morning rush hour in the centre of Kabul on Wednesday, killing at least 80 people, in a highly secure diplomatic area of Kabul.
At least 80 people have been dead and more than 360 wounded in the explosion that sent clouds of black smoke into the sky, the Afghan public health ministry has said.
The dead and wounded were almost all Afghan civilians and security forces: policemen, bank clerks, cart pullers, telephone company workers. Five women were among the dead, officials said.
The bomb, one of the deadliest in Kabul and coming at the start of the holy month of Ramadan, exploded close to the fortified entrance to the German embassy, killing a security guard and wounding some staff, German Foreign Minister Sigmar Gabriel said on Twitter.
Residences and offices of Pakistani, Indian, French, and German diplomats, among those of other countries, were damaged.
"I felt like it was an earthquake, and after that I do not know what happened," said Mohammed Hassan, 21, who was attending a training program at the Azizi Bank, half a block from the blast, and suffered cuts on his head and arms. "All the staff around me, everyone, was injured." He said he was brought to the hospital by an army Ranger truck.
Afghan President Ashraf Ghani strongly condemned the attack, which came just days into the Muslim holy month of Ramadan.
World leaders condemn deadly attack in Kabul
Pakistan condemned the "terrorist attack in Kabul this morning that has caused loss of precious human lives and injuries to many".
German Foreign Minister Sigmar Gabriel said that employees of the German Embassy were wounded in the attack and that one Afghan security guard was killed. "Our thoughts are with the families and friends of the victims. We wish those injured a quick recovery," the foreign minister said. "It's particularly despicable that these people were targeted."
FM @sigmargabriel: Shocking news from #Kabul. I condemn the attack in the strongest terms. Our thoughts are w/ the relatives of the victims

— GermanForeignOffice (@GermanyDiplo) May 31, 2017
Foreign minister of Qatar, Mohammed bin Jassim Al-Thani, condemned the "appalling attack".
Strongly condemn the appalling attack in #Kabul that killed many innocent. #Qatar rejects all forms of violence and terrorism.

— محمد بن عبدالرحمن (@MBA_AlThani_) May 31, 2017