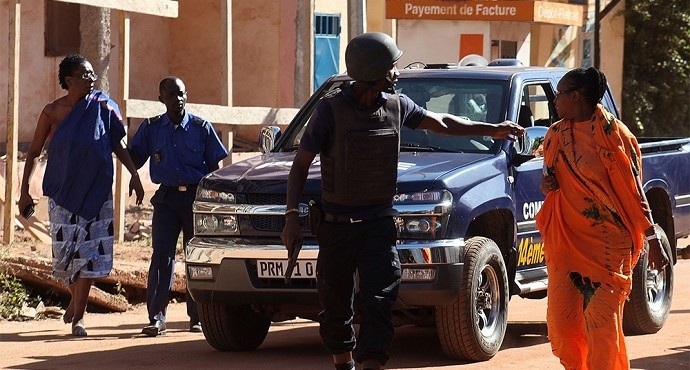 Gunmen stormed a luxury hotel in the Mali's capital on Friday, leaving at least 18 people dead and trapping dozens in the building for hours, officials in the West African nation said.
Assailants with guns blazing attacked a hotel hosting diplomats and others in Mali's capital of Bamako, taking scores of hostages.
At least 18 bodies were removed from the hotel as the siege was brought to an end in the late afternoon, state -run Malian television reported. But there were reports the toll could be higher. At least six people injured in the attack have been hospitalized, Mali Health Minister Marie Madeleine Togo told state broadcaster ORTM.
Security forces launched a counterattack at the Radisson Blu Hotel in Bamako and escorted guests out. By late Friday afternoon, no hostages were believed to remain in the building, though attackers still were inside, Malian army Col. Mamadou Coulibaly told reporters.
Malian troops, backed by special forces from the United States and France, reacted quickly after Islamic extremists armed with guns and throwing grenades stormed the Bamako hotel Friday morning.
Malian special forces freed hostages "floor by floor," Traore told The Associated Press.
Malian news website Maliactu lists 14 nationalities among the guests caught up in the hostage situation: Algerian, German, Belgian, Canadian, Chinese, Ivorian, Spanish, American, French, Indian, Moroccan, Russian, Senegalese and Turkish.
UN Secretary-General Ban Ki-moon has condemned what he described as a "horrific terrorist attack at the Radisson hotel in Bamako". He also expressed his condolences to Mali's government and the bereaved families. Mr Ban said he fully supported "the Malian authorities in their fight against terrorist and extremist groups".