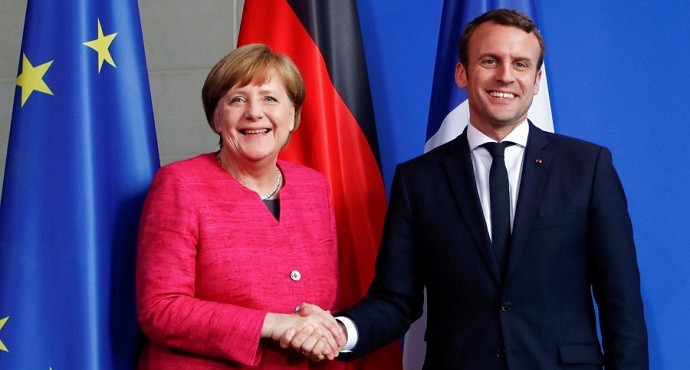 Emmanuel Macron, Angela Merkel agree to work towards 'road map' of reforms for the European Union
The new French president, Emmanuel Macron, and the German chancellor, Angela Merkel, have pledged to work closely together to draw up a "road map" of reforms for the European Union.
The French and German leaders sought to reinvigorate the Franco-German relationship and the European project, after being shaken by Brexit.
French President Macron made his first international trip to Germany after his first full day in office and shortly after naming his new prime minister, Edouard Philippe.
He was received with military honors ahead of the talks with he German Chancellor Angela Merkel in Berlin.
In Berlin, the 39-year-old French leader urged a "historic reconstruction" of Europe to battle populism sweeping the continent, following his defeat of far-right leader Marine Le Pen.
The two leaders wished to develop a "road map" to strengthen the European Union and the eurozone, boosting investment, improving foreign policy co-ordination and "reciprocity" in trade relations with non-EU partners, such as the US and China.
In remarks to reporters, Merkel said the two had agreed to "breathe new dynamism" into French-German cooperation.
In return, Mr. Macron said that he would work with Ms Merkel on a "road map" and that they needed to work on "deep reforms that are necessary and need common work".
Both leaders said they were comfortable with the idea of changing European treaties, if necessary. However, Ms. Merkel said a roadmap must first be conceived.
Ceux qui croient dans l'Europe ont besoin de pouvoir apporter aux autres la preuve qu'elle marche. Cela nous oblige à avoir des résultats. pic.twitter.com/2AbYdF9OZX

— Emmanuel Macron (@EmmanuelMacron) May 15, 2017