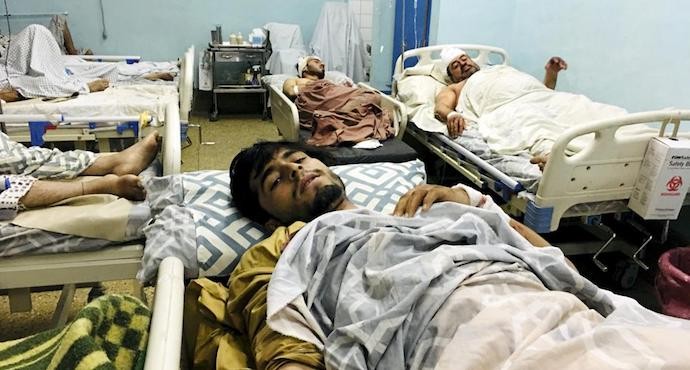 U.S. braces for more ISIS attacks after more than 180 killed in a bomb explosion at Kabul airport
Two suicide bombers and gunmen attacked the Kabul airport on Thursday, killing at least 170 Afghan civilians and 13 U.S. soldiers. Bombers struck the crowded gates of the airport amid evacuation efforts for troops, diplomats, and those Afghans fleeing the Taliban takeover.
Eleven of the Americans killed were Marines; one was a Navy sailor and another was an Army soldier. The attack also wounded 18 U.S. service members, and countless Afghan civilians.
It is believed to be the deadliest attack on American troops in Afghanistan since the August 2011 attack on a Chinook helicopter that killed 30 service members.
The U.S. general overseeing the evacuation said the attacks would not stop the United States from evacuating Americans and others, and flights would continue. In the past 12 days, Western countries have evacuated nearly 100,000 people from Kabul.
Gen. Frank McKenzie, head of U.S. Central Command, said U.S. commanders were on alert for more attacks targeting the airport. "We're doing everything we can to be prepared," he said, adding that some intelligence was being shared with the Taliban and that he believed "some attacks have been thwarted by them."
Late Saturday, the U.S. Embassy in Kabul issued a security alert to Americans, advising them to immediately evacuate the area near the airport, warning of a "specific, credible threat."
The attack was claimed by Islamic State in Khorasan Province, ISKP (ISIS-K), ISIS offshoot in Afghanistan, which said its suicide bombers singled out "translators and collaborators with the American army". The group is also considered an enemy of the Taliban, a group that toppled the U.S.-backed government in Kabul amid the U.S. military's withdrawal.
After the attacks, the ISIS statement claimed that a suicide bomber "managed to reach a large gathering of translators and collaborators with the American army at 'Baran Camp' near Kabul Airport and detonated his explosive belt among them."
Biden said he had ordered the Pentagon to plan how to strike ISIS-K, the ISIS affiliate in Afghanistan. "We will not forgive. We will not forget. We will hunt you down and make you pay," Biden said.
President Biden also ordered the U.S. military commanders to develop plans to strike ISIS assets, leaders, and facilities in Afghanistan. "We will respond with force and precision at our time at a place we choose in a moment of our choosing," Biden said.
Earlier, Chairman of the U.S. Joint Chiefs of Staff General Mark Milley said that other terrorist groups like al-Qaeda could also reconstitute in Afghanistan sooner than the original estimate of two years.
Updated on: August 29, 2021