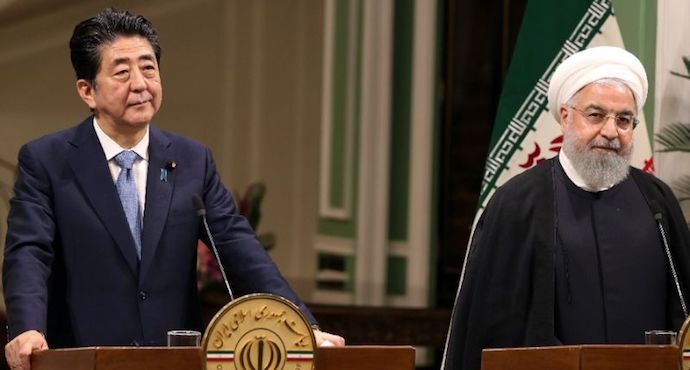 Japan's Abe hopes to ease US-Iran tensions, Iran says will never initiate war but will give crushing response to aggression
Japanese Prime Minister Shinzo Abe's has called on Iran to play a "constructive role" for regional security on his two-day visit to the country. Mr Abe is in Tehran, hoping to ease tensions between Iran and the US.
Abe's trip to Iran marks the first visit of a sitting Japanese premier in the 40 years since the Islamic Revolution to ease tensions in the Middle East amid the standoff between Washington and Tehran
"Amid rising tension, it is essential for Iran to play a constructive role in strengthening peace and stability in the Middle East, so that this region won't be destabilized further or accidental clashes won't happen," Abe told a joint news conference in Tehran with Iranian President Hassan Rouhani.
Abe's Tehran visit comes at a time of increased U.S.-Iranian tensions in recent weeks, a year after Washington withdrew from a landmark 2015 nuclear deal between Iran and world powers to curb Iran's nuclear program in exchange for the lifting of international financial sanctions. US has since reimposed tighter sanctions on Iran, raising concerns about global oil supply.
Iran says will never initiate war but will give crushing response to aggression
Iranian President said he expected a "very positive change" in the Middle East and the world if the US ended its economic pressure on Iran through sanctions.
"Tensions stem from America's economic war against Iran. If it stops, we will witness a very positive change in the Middle East and the world," Rouhani said.
"We will not initiate a conflict in the region, even against the US, but if a war starts against us we will then give a crushing response," the Iranian president added, noting that Japan wanted to continue to buy Iranian oil.
Iran's Supreme Leader Ayatollah Ali Khamenei stated that his country has "no intention to produce, possess or use nuclear weapons," expressing his desire for peace in the region, Abe said after meeting him in Tehran.
Why is Abe visiting Iran?
The US-Iran tension is a dilemma for Japan that used to import oil from Iran but had to bow to Washington following fresh US sanctions on Iran. While Tokyo can do without Iranian oil for now, any flareup in the Middle East can hike oil prices, affecting all including Japan.
The meditation is also an opportunity for Mr. Abe to emerge as a global leader after diplomatic overtures to North Korea and Russia as he is set to become the longest-serving prime minister in Japan's history.