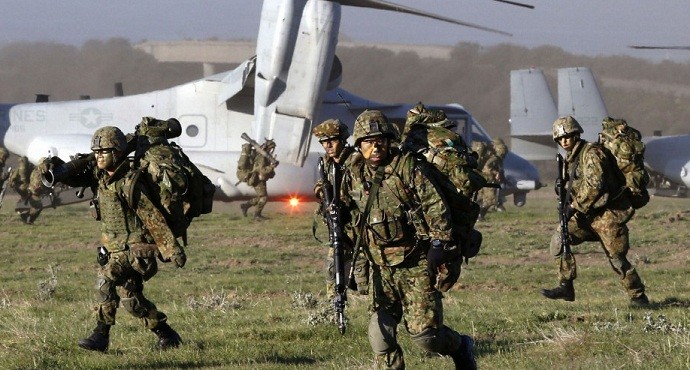 Japan's military seeks record spending of US$51 billion to counter North Korea, China moves
Japan's defense ministry requested a record budget of US$51 billion for fiscal year 2017 in the wake of increasing tensions from North Korea and China.
Japan seeks funds for an anti-ship missile system to defend its islands amid growing ballistic missile threat from North Korea and China's assertive moves in the East China Sea.
If approved, the hike of 2.3 percent will take the Japan's defense budget to 5.17 trillion yen (US$51.47 billion) in the year starting April 1, for a fifth consecutive increase as Prime Minister Shinzo Abe bolsters Japan's military.
One security analyst, however, deems the spending was insufficient as "The security environment surrounding Japan is severe, due to neighboring North Korea and China," according to Takashi Kawakami, a security expert at Japan's Takushoku University.
Japan's Defense seeks stealth fighters, drones and submarines
Japan aims to develop a prototype drone fighter jet in two decades with private sector help in a technology strategy that focuses on weapons communications and lasers, according to Reuters report.
Defense officials want 95 billion yen next year to buy six Lockheed Martin F-35 stealth fighters, and a combined 92 billion for four Boeing Co (BA.N) and Bell Helicopter (TXT.N) V-22 Osprey tilt-rotor aircraft and six Boeing Chinook twin-rotor helicopters.
Japan's Self-Defense also wants 11 BAE Systems (BAES.L) AAV7 amphibious assault craft, and two long-range Kawasaki Heavy Industries (7012.T) C-2 military cargo jets.
Other buys will include a Northrop Grumman (NOC.N) unmanned Global Hawk surveillance drone and a new larger-class diesel-electric submarine designed by Mitsubishi Heavy and Kawasaki Heavy.
The ministry also plans to create a mobile amphibious unit with more than 2,000 troops at a base in Nagasaki prefecture.
The proposed budget calls for Japan to develop land-to-ship missiles as well as air-to-ship missiles for patrol planes. The new land-to-ship missile system is expected to have a range of 300 kilometers (190 miles), far enough to reach the vicinity of the disputed islands, the Yomiuri Shimbun daily reported earlier in August.
Japan's biggest upgrades
The single biggest expenditure is 99 billion yen ($970 million) to upgrade Japan's warhead-killing Patriot batteries, a last line of defense against missile strikes.
The improvements will double their range to around 30 km (19 miles) and sharpen targeting to hit arriving ballistic warheads.
They will take five years to complete, with the first four enhanced Patriots expected to be ready for the 2020 Tokyo Olympics.
Japan's biggest defense contractor, Mitsubishi Heavy Industries (MHI) (7011.T) will upgrade the PAC-3s under license from Lockheed Martin Corp and Raytheon Co, sources familiar with the plan told Reuters last month.
The budget request also includes funding to improve Aegis destroyers that are Japan's first line of defense against ballistic missiles.