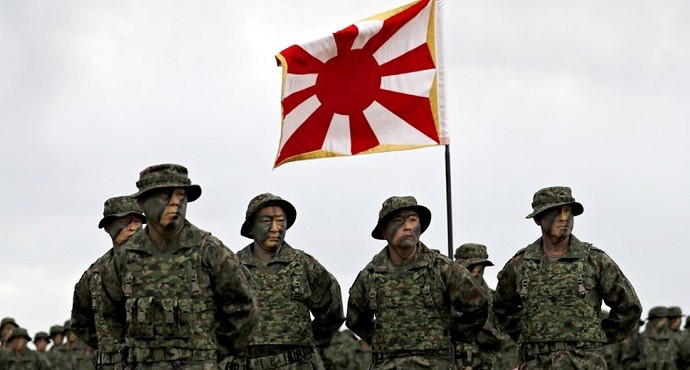 Japan activates first marines since WWII to bolster defenses against China
Japan has activated its first marine unit since World War Two in its latest move to strengthen its military defense capabilities.
The new development has been announced to counter invaders occupying Japanese islands along the edge of the East China Sea that Tokyo fears are vulnerable to attack by China.
About 1,500 members of the Amphibious Rapid Deployment Brigade (ARDB) wearing camouflage lined up outside amid cold, windy weather in a ceremony held at a military base near Sasebo on the southwest island of Kyushu.
The new force contains 2,100 marines in total, with this number expected to rise to 3,000.
The troops conducted a 20-minute mock public exercise recapturing a remote island from invaders.
"The Amphibious Rapid Deployment Brigade will show to the international society our firm resolve to defend our islands," a senior defense ministry official said during the ceremony, Mainichi reports.
"Given the increasingly difficult defense and security situation surrounding Japan, defense of our islands has become a critical mandate," Vice Defense Minister Tomohiro Yamamoto said.
The marines are the latest addition to Japan's defense, which has been increasing its military hardware in an effort to deter China. The ARDB unit will primarily defend the country's remote southwest islands.
The formation of the Japanese marine brigade is controversial because amphibious units can project military force and could, critics warn, be used to threaten Japan's neighbors. In its post World War Two constitution Japan renounced the right to wage war.
The brigade is the latest component of a growing marine force that includes helicopter carriers, amphibious ships, Osprey tilt-rotor troop carriers and amphibious assault vehicles, meant to deter China as it pushes for easier access to the Western Pacific.
Japanese Prime Minister Shinzo Abe in March said he intends to revise the country's post-war constitution. "The time has finally come to tackle constitutional revision, which has been a task since the founding of the party," he said.
"Let's stipulate the Self-Defense Forces and put an end to a controversy about violation of the constitution."