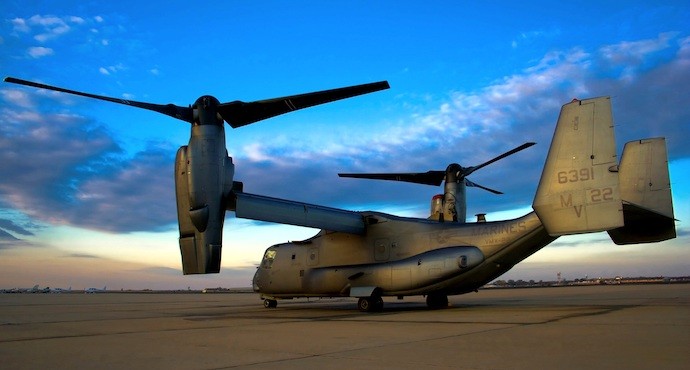 First two V-22 Osprey tiltrotor aircraft arrive in Japan
Tokyo has received its first pair of Bell Boeing V-22 Osprey tiltrotors to build its amphibious and naval warfare capabilities.
Videos from the Japan Ground Self-Defence Force (JGSDF) and US Marine Corps (USMC) show the two aircraft with the serial numbers JG-1701 (91701) and JG-1705 (91705) performing flight operations in Japanese markings.
The aircraft, delivered on May 8, are the first of five Ospreys the JGSD ordered in 2015 at a cost of $332 million.
Japan plans to buy at least 17 V-22B Osprey tilt rotors flown by the U.S. Marine Corps. The request was made in May 2015 under the U.S. Defense Department's Foreign Military Sales program.
Japan is the first non-U.S. customer for the V-22. Japan's Ospreys will initially be stationed at Kisarazu Air field near Tokyo.
陸上自衛隊のオスプレイ2機が山口県の岩国基地に陸揚げされました! pic.twitter.com/ZS52QpqbeV

— 在日米第三海兵遠征軍 (@IIIMEF_JP) May 11, 2020
Developed by Bell-Boeing, the V-22 Osprey is a joint service multirole combat aircraft that combines tiltrotor technology with the vertical performance of a helicopter and speed and range of a fixed-wing aircraft.
With its rotors in the vertical position, it can take off, land and hover like a helicopter. Its most remarkable feature is that when airborne, it can convert to a turboprop airplane capable of high-speed, high-altitude flight.