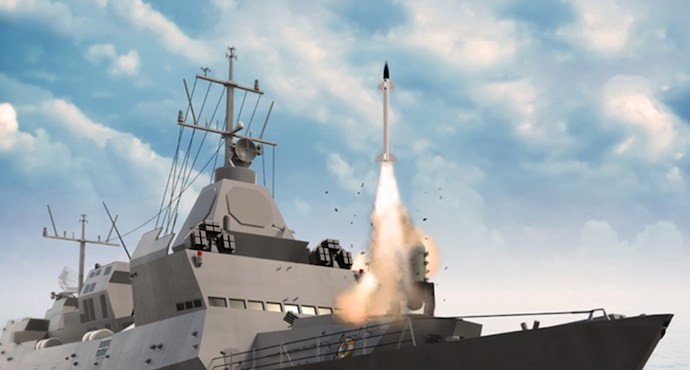 Israeli Navy to procure Barak 8 missile defense system, jointly developed by India, Israel
Israeli Navy's Sa'ar-6 corvettes will be equipped with advanced defense systems after reaching an agreement with Israel Aerospace Industries (IAI).
The Barak 8a defense systems will be used to protect Israel's exclusive economic zone and strategic facilities that face diversified threats in the marine region.
"The Barak-8 system was chosen after it was demonstrated to meet the operational requirements and future challenges faced by the Navy," the company said.
The contract was reached by the Navy, Directorate of Defense Research and Development (DDR&D) and the procurement administration in Israel's Ministry of Defense.
The Barak 8 missile defense system has been co-developed by Israel's state-owned research and development bodies and the navies of India and Israel. The two countries have evenly spent the $350 million on the development of the system.
"Barak-8 is one of IAI's leading systems and a growth engine for IAI in sales to its customers. The new deal adds to several Barak-8 contracts entered over the past few years with total value of more than USD 5 billion, which is another feather in the system's glorious cap," said IAI's CEO and President Joseph Weiss.
Boaz Levi, Executive Vice President and General Manager of Systems, Missiles and Space Group at IAI called the system "a proud member of the exclusive club that hosts Israel's most successful global military developments".
"The procurement of Barak-8 System for the Sa'ar-6 corvettes will expand the operational capabilities of the Israeli navy, including the defense of Israel's territorial and exclusive economic zone.
"With land and naval modules, the system provides a complete response to a wide range of threats and is developed to work with other systems," Levi said.
Barak-8 is an operational air & missile defense system used by the Israeli navy as well as by India's navy and air forces. It gives broad aerial and point defense against a wide range of threats to the marine arena from the air, the sea or the land.