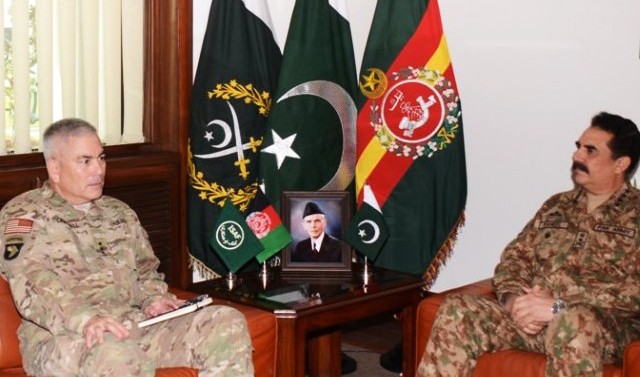 ISLAMABAD: The International Security Assistance Force (ISAF) and Afghan National Army came to an agreement with Pakistan on Tuesday for sharing intelligence between the respective forces and coordinated operations against militants in the mountainous border areas between Pakistan and Afghanistan.
The agreement comes as Pakistan pursues militants responsible for the Peshawar school massacre last week in which 149 people, including 133 children were killed.
The agreement came in a key meeting between Afghanistan Army Chief Gen Sher Mohammad Karimi, commander of US-led ISAF Gen John F Campbell and Chief of Army Staff General Raheel Sharif at the General Headquarters in Rawalpindi on Tuesday.
The army chief and the Afghan army chief agreed that their commanders will begin meeting immediately to further coordinate border area security operations.
The meeting comes amid reports of a significant development against Tehreek-e-Taliban Pakistan (TTP) sanctuaries of in Kunar and Nuristan provinces of Afghanistan.
The visit comes a week after General Raheel Sharif traveled to Kabul seeking decisive action against TTP sanctuaries including its fugitive commander Mullah Fazlullah in Afghanistan. His visit On December 16 immediately followed a devastating attack on an army-run school in Peshawar, in which the TTP killed 148 people, including 132 children.
Both Afghanistan and ISAF assured the army chief they would eliminate militant hideouts after General Raheel shared 'vital intelligence' linking the Peshawar school massacre with TTP sanctuaries.
Further, the visit is also followed by an operation against TTP in Kunar on Tuesday led by the Afghan National Army.
According to the Inter-Services Public Relations, the army chief welcomed the start of operation against TTP in the areas close to Pak-Afghan border.
The army chief vowed to extend full support to the visiting Afghan chief of general staff and ISAF commander in all spheres, including coordinated operations in respective areas by both sides and sharing of intelligence.
The trilateral meeting discussed the overall security situation in the region, matters relating to coordination on the Pak-Afghan border and protocols put in place to improve border control.
The Afghan army chief and ISAF commander also expressed grief over the dastardly Peshawar massacre and both leaders assured their full support in the fight against terrorism and eliminating terrorists on Afghan soil.
The top Afghan and US general also acknowledged that due to Operation Zarb-e-Azb terrorist networks have been degraded.
Gen. Campbell expressed his hope that Tuesday's agreements will help develop a long-lasting security foundation necessary to promote peace for both countries. He further emphasised that the international coalition remains committed to working with Pakistan and Afghanistan on these issues, and others, on the basis of mutual interest and respect.
"This article was originally published in The Express Tribune"