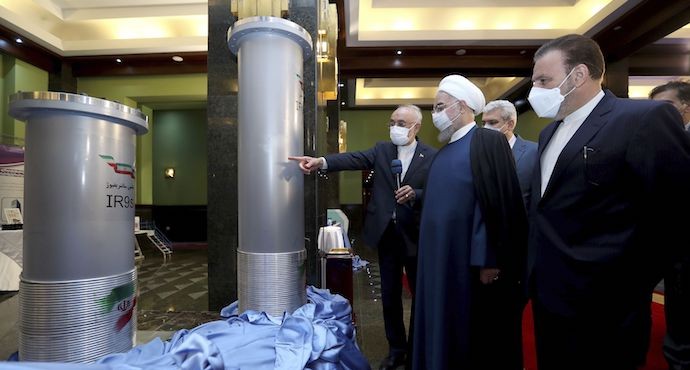 Iran to begin enriching uranium to highest ever level of 60% after alleged cyberattack by Israel
Iran said it will start enriching uranium to 60% purity, higher than ever, after accusing Israel of sabotaging a key nuclear installation in a cyberattack at the Natanz facility. A fissile purity of 90% is suitable for a nuclear bomb.
Tehran's move came in response to a suspected Israeli attack on Iran's main enrichment facility and soon before the resumption of talks in Vienna to restore the 2015 nuclear deal with major powers.
Iran's chief nuclear negotiator Abbas Araqchi also said Iran would activate 1,000 advanced centrifuge machines at Natanz.
Iran described a blackout at its underground Natanz atomic facility as an act of "nuclear terrorism," raising regional tensions as world powers and Tehran continue to negotiate over its tattered nuclear deal.
Mossad behind the cyberattack on Iran's nuclear site
Israeli public radio cited intelligence sources and claimed that Israel's Mossad spy agency carried out a cyberattack on Iran's Natanz nuclear facility. Israel's Kan public radio, citing unnamed sources, said the attack on Natanz was "an Israeli cyber-attack in which the Mossad was involved… [and] the damage to the Iranian facility is greater than reported" by Iran.
As Iranian authorities scrambled to deal with a large-scale blackout, the Israeli defense chief, Aviv Kochavi, said the country's "operations in the Middle East are not hidden from the eyes of the enemy".
Israel made a 'bad gamble': Iran
Iran's foreign minister Javad Zarid said that Israel had made a "very bad gamble" following the attack on Tehran's Natanz nuclear site. "Israel played a very bad gamble if it thought that the attack will weaken Iran's hand in the nuclear talks," Javad Zarif said at a news conference in the Iranian capital. "On the contrary, it will strengthen our position."
Israel will never allow Iran to develop nuclear capability: Netanyahu
Israeli Prime Minister Benjamin Netanyahu vowed to do everything in his power to stop the nuclear deal. Israel will never allow Iran to develop "nuclear capability to carry out its genocidal goal of eliminating Israel," Netanyahu said during a joint press conference with visiting U.S. Secretary of Defense Lloyd Austin in Jerusalem on April 12.
"My policy as prime minister of Israel is clear. I will never allow Iran the nuclear capability to carry out its genocidal goal of eliminating Israel."