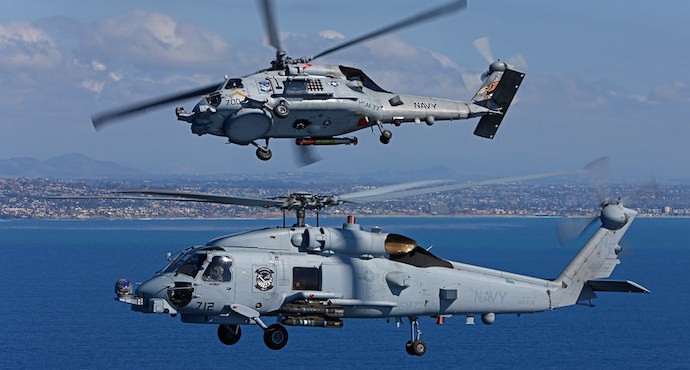 MH-60R will provide India maritime anti-surface and anti-submarine warfare capabilities
Sikorsky has finalized a $905 million deal to build 24 MH-60R Seahawk maritime helicopters for the Indian Navy. This is the largest defense contract that Lockheed Martin has signed with the country.
The pact, that was recently inked between the Indian government and Sikorsky, was initially approved by the State Department in April 2019.
In the official notice, the United States Navy is ordering three MH-60Rs, while the rest 21 are ordered by India.
"The US Navy has allowed us to leverage three aircraft from their inventory of brand new aircraft .. in order to provide them to the Indian Navy so they can begin training on a more accelerated basis than might normally be possible," according to Tom Kane, director of Sikorsky naval helicopter programs.
"India's selection of the MH-60R 'Romeo' multi-mission helicopter provides the Indian Navy with the most advanced anti-surface/anti-submarine warfare helicopter in operation today," said Tom Kane in a May 14 release.
"The MH-60R offers the lowest risk and best value option because the aircraft is already in full production and globally supportable. The MH-60R provides a vital capability in the Indo-Pacific region and equips the Indian Navy with a tremendous capability that is ready for operations immediately upon delivery."
The MH-60R, known as "the world's most advanced maritime helicopter", will offer India maritime anti-surface and anti-submarine warfare capabilities with secondary missions including cargo and utility, search-and-rescue, and communications relay.
The deal has been accelerated amid the U.S.-Cina rising tensions in the region. The new helicopters will "give the Indian military a powerful tool to monitor the seas for the increasing number of Chinese surface ships and submarines" according to a Breaking Defense report.
The first aircraft should be delivered to India in June 2021, which "is more accelerated than we would normally be able to achieve because we have been anticipating this contract for quite some time," Kane said. All helicopters are expected to be delivered by 2024.
India's mixed fleet included Russian-made Kamov Ka-28, Sikorsky S-61 Sea King and locally produced HAL Dhruv for maritime patrol and anti-submarine warfare.
In February 2020, India became the fifth country to add 24 MH-60Rs to its fleet, joining navies from the United States, Australia, Denmark and Saudi Arabia.
Features of MH-60R:
Spotting underwater enemies
Detecting and engaging enemy threats
Sharing information with other assets to defeat the threat
Surviving the most extreme weather
Switching missions with ease
Taking off from anywhere (even the deck of a ship)
Multitasking
Lifting heavy cargo