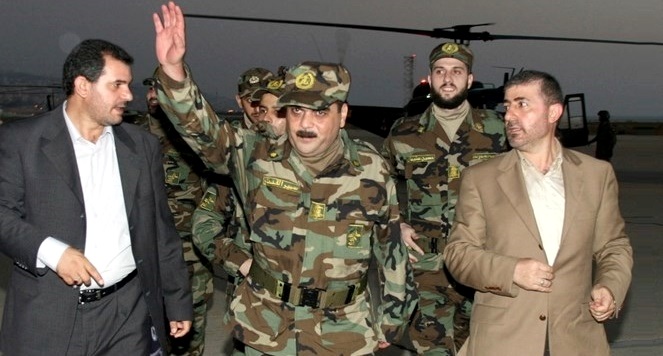 Samir Kuntar, a prominent Hezbollah member, longest serving prisoner in Israel, killed
A high-profile senior Hezbollah leader and envoy, Samir Kuntar has been killed in Israeli air strikes on the outskirts of Syrian capital, Damascus.
Hezbollah said Kuntar, known in Lebanon as "The Dean of Lebanese Prisoners" for being the longest-held prisoner in Israel, was killed along with eight others in the strike in the Damascus suburb of Jaramana Saturday night.
Hezbollah's Al Manar TV said two Israeli warplanes that violated Syrian airspace fired four long-range missiles at the residential building in Jaramana Saturday night. It aired footage of what it said was the building, which appeared to be destroyed. Kuntar's brother, Bassam, confirmed his "martyrdom" in a Facebook posting Sunday.
Four missiles launched almost certainly by two Israeli warplanes struck the high-rise building in the district of Jaramana where Mr Kuntar had been staying late on Saturday night, the Hezbollah-affiliated Al-Manar TV reported. The group later issued a statement confirming his "martyrdom".
Reports suggest around seven other people were killed in the attack, including Hezbollah field commanders.The Israeli Defence Forces (IDF) have not commented.
Mr Kuntar's brother confirmed the death on social media, writing that his family was "was honoured to join families of martyrs," the Daily Star of Lebanon reported.
Samir Kuntar, was also on the American list of proscribed global terrorists, and had spent almost 30 years in an Israeli prison on charges of multiple murders dating back to a cross-border raid from Lebanon in the 1970s.
Kuntar was born in 1962 and was a hated figure in Israel for the 1979 attack that killed four people. He was subsequently arrested in the country but was released in 2008 as part of a prisoner swap with Hezbollah, after which he reportedly joined the group, but maintained a low profile.
Mr Kuntar, a member of the Druze sect, was captured by Israel following a 1979 attack when, along with three other members of the Palestine Liberation Front, he infiltrated the northern part of the country from Lebanon on a rubber boat.
Israel held on to Kuntar for decades, hoping to use him as a bargaining chip to win new information about an Israeli airman whose plane crashed in Lebanon in 1986. It ultimately traded him in 2008 along with four other Lebanese prisoners in exchange for the bodies of two of its soldiers.
Israel shells southern Lebanon after rocket attacks from Lebanese territory
At least three rockets were fired from southern Lebanon toward Israel Sunday evening, U.N. peacekeepers stationed on the border said, hours after a suspected Israeli airstrike killed a Hezbollah commander in Syria. Israel responded by firing nine shells across the border, including seven that hit the area of Wadi al-Nafkha, and two which struck Wadi Zabqin, according to the National News Agency.
Israeli has attacked targets in southern Lebanon with artillery fire and flown warplanes over the capital Beirut in retaliation for three rockets being fired into northern Israel from Lebanese territory.
The exchange came after an Israeli air strike killed a Lebanese Hezbollah leader, Samir Kuntar.
Lebanese media reported no casualties from the artillery rounds fired from Israel into Lebanese territory.
The rockets were believed to be a response to what Hezbollah said was an Israeli air strike, which killed Lebanese Hezbollah leader Samir Kuntar and eight others, in the Syrian capital Damascus on Saturday night.