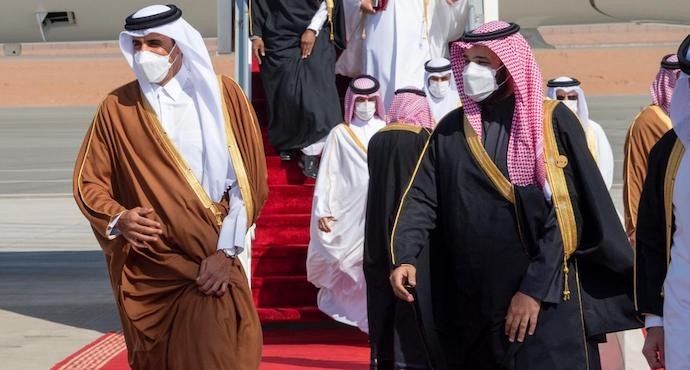 Qatar ruler lands in Saudi Arabia for the summit as Saudi Arabia lifts embargo, opening air and land borders
Saudi-led Arab bloc and Qatar have signed a formal agreement aimed at ending the three-year blockade of Doha.
Gulf leaders signed the "solidarity and stability" agreement at a summit in Saudi Arabia where they met for their annual summit on Tuesday. Saudi Arabia's Crown Prince Mohammad bin Salman welcomed on Tuesday the Emir of Qatar, Sheikh Tamim bin Hamad Al-Thani to Al-Ula ahead of the Gulf Cooperation Council (GCC) summit.
Leaders of the six-member Gulf Cooperation Council signed the Al-Ula declaration. "There is a desperate need today to unite our efforts to promote our region and to confront challenges that surround us, especially the threats posed by the Iranian regime's nuclear and ballistic missile program and its plans for sabotage and destruction" the crown prince told the meeting, thanking the United States and Kuwait for their mediation.
Saudi Arabia on Monday announced the reopening of land borders with Qatar after a three-and-a-half-year rift that saw the kingdom, the United Arab Emirates (UAE), Egypt and Bahrain cut diplomatic and trade ties and impose a land, sea and air blockade on the Gulf state.