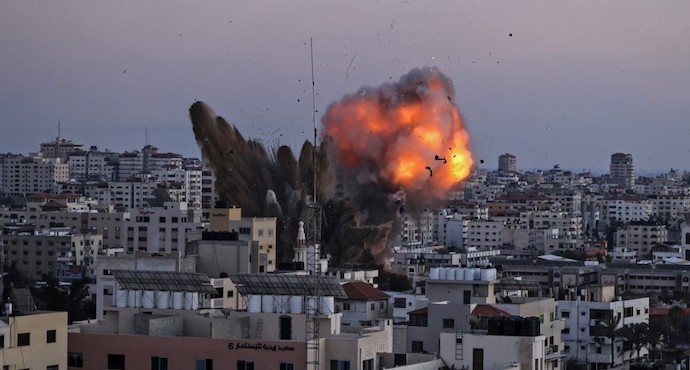 Israeli airstrikes on Gaza City flatten three buildings and kill at least 42 people on Sunday
Israeli airstrikes on besieged Gaza killed at least 42 people and flattened three buildings, officials said, making it the deadliest single attack since Israel began attacking the Palestinian territories.
At least 192 people, including 58 children and 34 women, have been killed in the Gaza Strip in the past week. More than 1,200 others have been wounded, according to Gaza health officials. Israel has reported 10 dead, including two children and one soldier.
Israel's bombardment of the Gaza Strip entered its seventh consecutive day on May 16. Meanwhile, Israeli Prime Minister Benjamin Netanyahu said that end to seven days of hostilities with Gaza fighters was not imminent. "Our campaign against the terrorist organisations is continuing with full force," Netanyahu said. "We are acting now, for as long as necessary, to restore calm and quiet to you, Israel's citizens. It will take time."
'Israel is committing war crimes'
Amnesty International has sounded the alarm over possible war crimes being committed in the Gaza Strip and called on the International Criminal Court to investigate. "We are deeply concerned about the mounting death toll," the human rights organisation said, adding: "Direct attacks on civilians are war crimes."
Saleh Hijazi, deputy regional director at Amnesty International Middle East and North Africa, said: "We now have an International Criminal Court investigation open on the situation in the Palestinian Territories since 2014. We call on the ICC to look into this incident" he said, referring to the bombing of international media offices by Israeli forces.
Islamic countries denounce Israel
The 57-nation Organization of Islamic Cooperation (OIC) on Sunday demanded that Israel halt attacks killing Palestinian civilians. Saudi Foreign Minister Prince Faisal bin Farhan Al Saud called on the international community to carry out its responsibility toward ending this "dangerous escalation", to act urgently to halt military operations and to revive peace negotiations based on a two-state solution.
Turkey has recommended an "international protection mechanism" for Palestine's civilians in the OIC meeting. "These efforts should also include physical protection through forming an international protection force with military and financial contributions of willing countries," Turkey's Foreign Minister Mevlut Cavusoglu told the virtual meeting of the Islamic bloc.
Palestine-Israel tensions
The recent tensions that started in East Jerusalem in the Muslim holy month of Ramadan spread to Gaza after Palestinian continued protests and retaliated against Israeli assaults on the Al-Aqsa Mosque and "forcible" eviction of Palestinians from their homes in East Jerusalem's Sheikh Jarrah.
Israel occupied East Jerusalem during the 1967 Arab-Israeli war. It annexed the entire city in 1980 in a move not recognized by the international community.