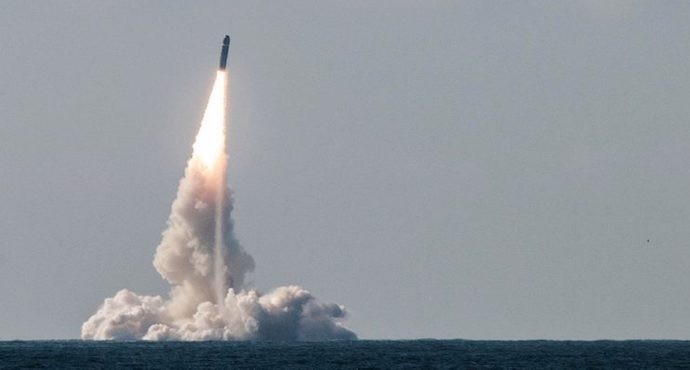 France's 'Le Téméraire' test-fired a submarine-launched ballistic missile in the Atlantic
French Navy (Marine Nationale) Triomphant-class SSBN "Le Téméraire" successfully test-launched an M51 submarine-launched ballistic missile (SLBM) on June 12, the French Ministry of Armed Forces said.
"The test was carried out without nuclear warhead and in strict compliance with France's international commitments" according to the official statement. The launch endorses the operational capacity of the SSBN Le Téméraire and also demonstrates the high-tech excellence of French defense industry, the statement added.
France's Minister of the Armed Forces, Florence Parly, and French Navy Chief of Staff Adm. Christophe Prazuck issued their statements on Twitter.
"The nuclear-powered Le Téméraire successfully fired an M51 strategic ballistic missile off Finistère" Florence Parly, French Minister of Armed Forces, tweeted.
Le sous-marin nucléaire lanceur d'engins (SNLE) Le Téméraire a tiré avec succès un missile balistique stratégique M51 au large du Finistère. Cet essai démontre notre excellence technologique et notre attachement à la souveraineté française.

— Florence Parly (@florence_parly) June 12, 2020
The French Navy's Chief of Staff, Admiral Christophe Prazuck, has also sent out a message:
Bravo Zulu à tous les marins de la FOST, force océanique stratégique, et au cercle encore plus vaste des marins de toutes les forces, qui ont directement contribué à ce succès ! https://t.co/XnyZuLq9Cz pic.twitter.com/wkFmhOORnu

— Chef d'état-major de la Marine (@amiralPrazuck) June 12, 2020
The M51 is a French long-range, solid-fueled, MIRV-capable, submarine-launched ballistic missile. It is a core component of France's nuclear deterrence force. M51's basic range is beyond 6,000 km (3,700 miles) according to French Ministry of the Armed Forces.
French Navy's four new-generation nuclear-powered missile submarine, the Triomphant class, entered service in 1997, 1999, 2004, and 2010. Le Téméraire is the second-oldest of the four nuclear submarines. Each submarine can carry 16 missiles.