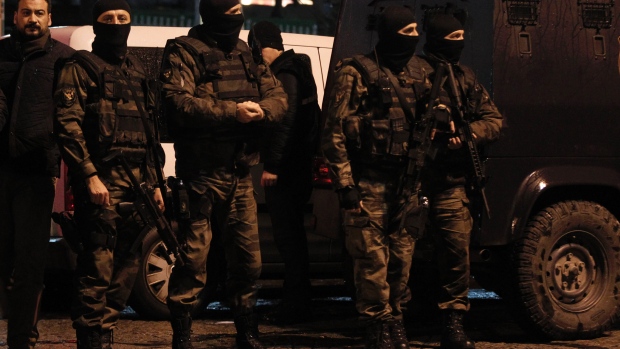 Istanbul, Turkey – An 'English-speaking' female suicide bomber blew herself up in a police station in Istanbul's most-visited tourist district, killing herself and a Turkish policeman, officials say.
The woman, whose identity has not been released, reportedly walked into the building saying in English that she had lost her purse and then detonated the explosives, Istanbul Governor Vasip Sahin said. The woman spoke English with a 'thick accent' but her nationality remains unknown, told Vasip.
Turkish news reports said two more explosive charges had been found on the corpse of the suicide bomber. Emergency services rushed to the scene and the city tram line that goes through the district was halted.
One of the police officers died in the attack while another was injured. Both were staffing a tourist police post intended to assist tourists with questions and problems.
The attack in the heart of Istanbul's tourist hub of Sultanahmet square, which is the home of world famous attractions including the Blue Mosque and Aga Sophia museum, has shocked the city dwellers.
The Turkish prime minister said a comprehensive investigation would be launched and labeled the attacker a 'terrorist'.
Deputy Prime Minister Numan Kurtulmus condemned the strike as a "heinous terror attack". "The target of this attack is the new Turkey, our beloved nation. But they won't succeed. They won't be able to destroy our brotherhood and unity," he wrote on Twitter.
There was no immediate claim of responsibility for the bombing, which came less than a week after far-left group DHKP-C (Revolutionary People's Liberation Party-Front) said it was behind a grenade attack on police near the Prime Minister's office in Istanbul.
Turkey is also currently facing possible threat from ISIS militants across the border from Syria and Iraq and from Kurdish rebels, despite a truce after a revolution lasting 30 years.