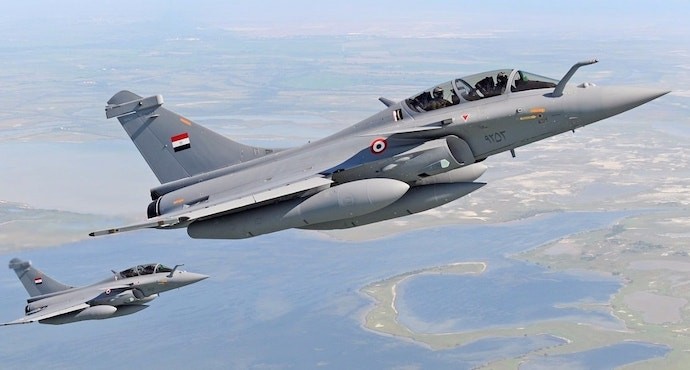 Egypt acquires 30 additional Rafale fighters to equip its air force
Egypt has signed a contract with France to buy 30 Rafale fighter jets, according to Egypt's armed forces spokesperson
Tamer al-Refai said that an agreement was signed between the Egyptian Armed Forces and France's Dassault Aviation SA.
The investigative website Disclose claimed that France and Egypt last month secretly signed the deal for 30 Rafale fighter jets worth 3.75 billion euro ($4.5 billion).
The website also said that Paris and Cairo agreed on three contracts. One for the purchase from Dassault Aviation of 30 Rafale fighter jets and the two other contracts, together worth 200 million euros, were with the France-based missile manufacturing consortium MBDA and avionics firm Safran Electronics & Defense.
The new order complements the first acquisition of 24 Rafales signed on February 2015 and will bring the number of Rafales flying in Egypt to 54. This will make the Egyptian Air Force the second in the world after the French Air Force, to operate such a fleet of Rafales.
"This new order is proof of the unfailing bond that unites Egypt, the first foreign user of the Rafale, as it was for the Mirage 2000, with Dassault Aviation for nearly 50 years. It is also a tribute to Rafale's operational quality, as this is the second time an export customer has chosen to order additional aircraft," said Eric Trappier, Chairman and CEO of Dassault Aviation.
The deal reflects the strategic relation between Egypt and France. President Emmanuel Macron last year said he would not make the sale of weapons to Egypt conditional on human rights because he did not want to weaken Cairo's ability to counter-terrorism in the region, a comment that drew the ire of critics.
Benedicte Jeannerod, Human Rights Watch Director for France, criticized the deal. "By signing a mega-arms contract with Sisi's government while the latter presides over the worst repression in decades in Egypt, the eradication of the human rights community in the country, and undertakes extremely serious violations under the pretext of the fight against terrorism, France is only encouraging this ruthless repression," Jeannerod told Reuters.