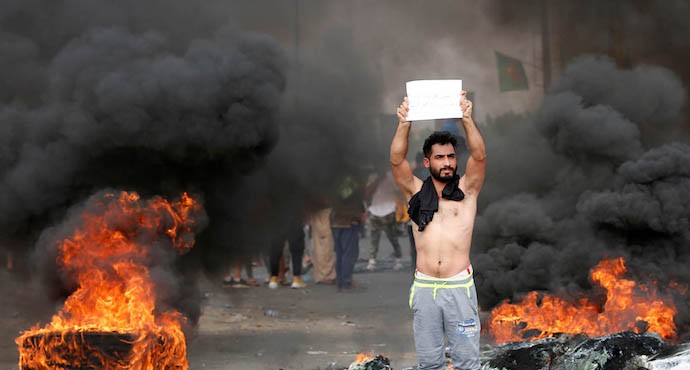 Nearly 30 killed, hundreds wounded in Iraq as police fire tear gas, bullets at protesters. Iraq government imposes curfews, cuts internet
Nearly 30 people have been killed and more than 600 wounded as thousands of demonstrators defied curfew by government and firing by Iraqi security forces on the third day of the anti-government protests.
Demonstrations that erupted in the capital Baghdad spread to several provinces across Iraq on Tuesday and Wednesday over unemployment, education and healthcare, government corruption and the lack of basic services such as water and power.
"The bullets do not scare us. They do not scare Iraqis. This will all come down over their heads," said one protester in the capital where 4,000 protesters gathered in Baghdad's Tayaran Square and attempted to march onto the central Tahrir Square. However, they were met with open fire and heavy tear gas. Police used live ammunition in some areas leaving the protesters dead. Meanwhile, police also said protesters had fired at them in the town of Rifae near the southern city of Nassiriya where seven people were killed overnight.
"The people are being robbed. The people are now begging on the street. There is no work, you come to protest, they fire at you. Live gunfire," said a man covering his face in a scarf.
Iraq government has cut off the internet for 70% of the country and blocked multiple social media sites in an attempt to prevent anti-corruption protests spreading further across the country.
Iraq has the world's fourth-largest reserves of oil, according to the International Monetary Fund, but much of its population of 40 million lives in poverty and without decent healthcare, education or power and water supply. Country's infrastructure has been wrecked by decades of sectarian civil war, foreign occupation, two U.S. invasions, U.N. sanctions and war against its neighbors.
Death toll rises to 30 as #IraqProtests turn violent. Hundreds wounded as police fire tear gas, bullets at protesters. Iraq government imposes curfews, cuts internet
Details: More: https://t.co/8alpWXeOTv
: @reuterspictures pic.twitter.com/QvdG9kOriv

— IRIA (@IRIA_Research) October 4, 2019
Iraq's PM calls for talks as thousands of protesters defy curfew
Iraq's Prime Minister Adel Abdul Mahdi has called for dialogue after a third consecutive day of deadly anti-government protests. Abdul Mahdi's office said the prime minister was "continuing contacts" with protesters in a bid to end the political crisis and "return to normal life". Abdul Mahdi was prepared to meet with "representatives of peaceful demonstrators to consider their legitimate demands", the statement added.
UN calls for dialogue amid Iraq protest
The United Nations is calling for dialogue between the Iraqi government and protesters, saying "we very much regret the loss of life that we have seen over the last few days during the protests."
U.N. spokesman Stephane Dujarric said at UN headquarters in New York that "We call for respect of the right of people to assemble freely and peacefully and as a matter of principle we also believe that further violence and excessive use of force must be avoided."
Dujarric said the U.N. envoy for Iraq, Jeanine Hennis-Plasschaert, met with a number of protesters Wednesday night in Baghdad and called for calm and dialogue. "She said that the protesters' demands for economic reforms, jobs, reliable public services, accountability, prudent and impartial governance are legitimate and longstanding," Dujarric said.