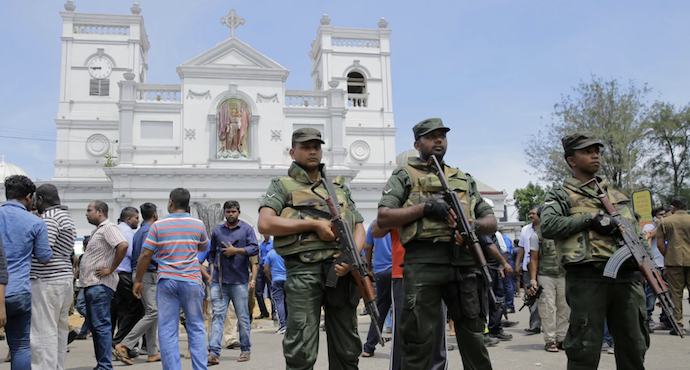 Simultaneous explosions in Sri Lanka kill nearly 300 people and leaves 500 wounded
A series of explosions have rocked churches and luxury hotels in Sri Lanka, killing more than 290 people and injuring nearly 500 as worshippers attended Easter services.
Sri Lankan police have arrested 24 men in connection with the blasts – the worst attacks in the South Asian island nation since the civil war ended in 2009.
The targets of the attack were St Anthony's Shrine, a church in Colombo, and St Sebastian's Church in Negombo were hit, as well as the Shangri-La, Kingsbury and Cinnamon Grand hotels in Colombo.
The hotels targeted in the attack are all popular destinations for tourist. At least 20 foreigners have now been counted among the dead at Colombo National Hospital, according to hospital Director General Anil Jasinghe.
Photos and videos circulating on social media and local news stations showed widespread damage at one of three churches targeted in the near-simultaneous blasts on Sunday morning.
Much of the church roof was blown out in the explosion, with roof tiles and splintered wood littering the floor and pools of blood in between wounded worshippers.
No one has claimed responsibility for Sunday's blasts.
Sri Lanka government calls for calm
Prime Minister Ranil Wickremesinghe condemned the attacks as "cowardly" and said the government was working to "contain the situation".
"Emergency meeting called in a few minutes. Rescue operations underway," Sri Lanka's Minister of Economic Reforms and Public Distribution, Harsha de Silva, said in a tweet on his verified account.
He said he had been to two of the attacked hotels and was at the scene at St Anthony's Shrine and described "horrible scenes".
"Please stay calm and indoors," he added.
Only around six percent of mainly Buddhist Sri Lanka is Catholic, but the religion is seen as a unifying force because it includes people from both the Tamil and majority Sinhalese ethnic groups.
Worst attack since civil war ended
The coordinated attacks were termed as the worst form of violence in the South Asian country since the civil war ended a decade ago.
Local Sri Lankans said the attacks were a blow to the country's tourism sector. Ashwin Hemmathagama, a reporter with the Daily FT, told Al Jazeera, "After the civil war ended, almost a decade ago, the tourism industry was picking up. Basically, everything was back to its current perspective, but unfortunately this kind of attack will definitely cripple the tourism sector."
Sri Lanka attacks in numbers
Four hotels ─ Cinnamon Grand, Shangri-La, Kingsbury and Tropical Inn ─ targeted in Colombo
Three churches targeted in Colombo (St Anthony's Shrine), Negombo (St Sebastian's Church) and Batticaloa (Zeon Church)
290 killed
36 foreigners among dead
About 500 injured
Curfew, 'temporary' social media ban imposed
24 arrested in connection with attacks