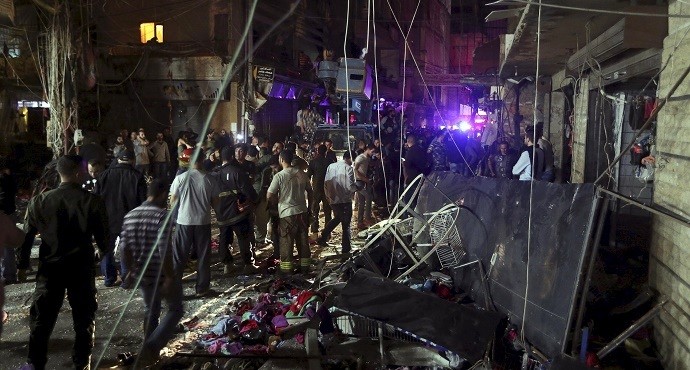 BEIRUT (Lebanon) — Two deadly blasts have killed more than 40 people and wounded nearly 200 according to the Lebanese Red Cross.
The blasts were caused by two suicide bombers who carried out a coordinated attack Thursday in a crowded area of southern Beirut controlled by the Hezbollah, local media reports. The number of people killed as gone up to 43, the Lebanese Red Cross informs.
37 dead and 181 injured until now in the #Burj_Al_Barajneh explosion pic.twitter.com/BfOxamWWLi

— Lebanese Red Cross (@RedCrossLebanon) November 12, 2015
There was extensive damage to buildings around the site of the blast and bodies inside some of the nearby shops, AFP news agency reports.
There was blood on the streets, and security forces were trying to cordon off the scene and keep people from gathering.
Security forces are trying to block the neighborhood and disperse the crowd so that the ambulance cars could get to the site.
Lebanon has been rocked by several explosions this year, which have killed dozens of people. The latest attack saw a bomb blast in the town of Arsal, near the Syrian border. The bomb was hidden in a motorcycle and killed six people, according to the National News Agency.
Double blast in southern Beirut suburb of Burj al-Barajneh, #Lebanon. At least 8 martyrs and dozens more wounded. pic.twitter.com/Dbpz2f9V6l

— Haidar Sumeri (@IraqiSecurity) November 12, 2015