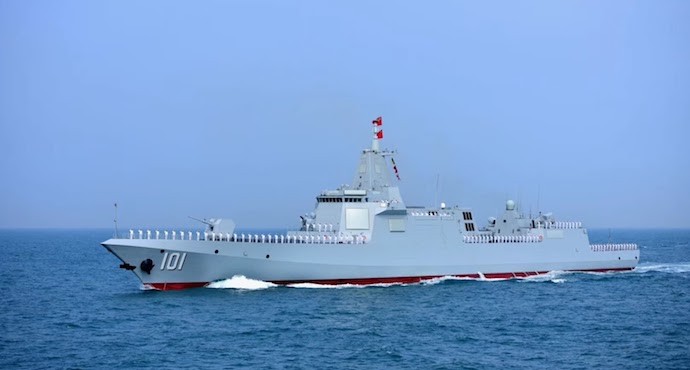 China's Navy commissions First-of-Class Type 055 guided missile Destroyer
The Chinese Navy has commissioned its most powerful and advanced surface warship, Nanchang, in the port city of Qingdao.
The Type 055 destroyer Nanchang is China's first fourth-generation guided-missile destroyer.
The 180-meter-long, 20-meter-wide Type 055 with a displacement of more than 10,000 tons has been referred to by the Pentagon not as a destroyer, but as a cruiser.
Defense observers believe the commissioning of China's first fourth-generation destroyer is a step forward for Beijing that seeks to operate farther from its shores into the western Pacific.
China's first 10,000-ton-class Type 055 destroyer is equipped with new air defense, anti-missile, anti-ship and anti-submarine weapons.
The warship's arsenal includes 112 vertical-launch missile cells capable of launching a combination of surface-to-air missiles, anti-ship missiles, land-attack missiles.
The Nanchang was launched in June 2017 and made its public debut in a naval parade to mark the 70th anniversary of the PLA Navy last year.
It is considered as one of the world's most advanced ships of its type – behind only the US Navy's stealth warship Zumwalt class.