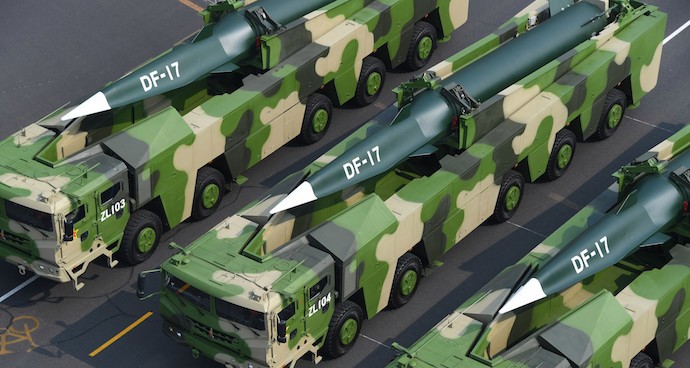 China used a massive military parade to unveil a supersonic, nuclear-capable missile
DF-17 hypersonic ballistic missile and new-generation road-mobile DF-41 draw attention
China staged its biggest ever military parade to mark the 70th anniversary of the People's Republic of China on Tuesday (October 1), with over 40 percent of the weapon systems on display for the first time.
Tanks, hypersonic ballistic missiles capable of reaching the US, soldiers marching in perfect formation and fighter jets trailing coloured smoke were all on full display as China displayed its military might.
The parade is the largest in China's recent history, featuring around 15,000 military personnel, 160 aircraft, 580 pieces of military hardware and equipment, and 59 formations in total.
The new hypersonic drones and intercontinental ballistic missiles drew the most attention. Among them were DF-17 hypersonic ballistic missile, DF-16 and DF-26 medium-range missiles, and the DF-31AG and DF-41 intercontinental ballistic missiles.
The centerpiece of the military display was the formidable new Dongfeng 41 intercontinental ballistic missile, which is believed to be one of the most powerful nuclear weapons on the planet.
Analysts believe the missile is capable of ranging anywhere in the US and can hit targets within just 30 minutes of being fired with 10 nuclear warheads that are capable of striking multiple targets simultaneously.
Also unveiled for the first time was the Dongfeng-17, a hypersonic nuclear missile that is also though to carry multiple warheads, fly faster than conventional weapons to evade defence systems, and at a lower altitude to avoid detection before impact.
The DF-17's hypersonic glide vehicle can reportedly travel at well above the speed of sound and penetrate US missile shields. It will replace the DF-11 and DF-15 short-range ballistic missiles.
During the 80-minute parade, Xi was seen waving as the military's latest weapons and equipment were paraded in Beijing's Tiananmen Square. Former Chinese leaders Hu Jintao and Jiang Zemin also joined him on the occasion.
A total of 188 military attaches from 97 countries were reportedly invited to watch the military display.
In 2018, China spent an estimated $250bn on its military, according to the Stockholm International Peace Research Institute. In comparison, the US spent $649bn during the same period.
China has the largest standing military in the world, with a total of two million active members, compared to1.29 million in the US.