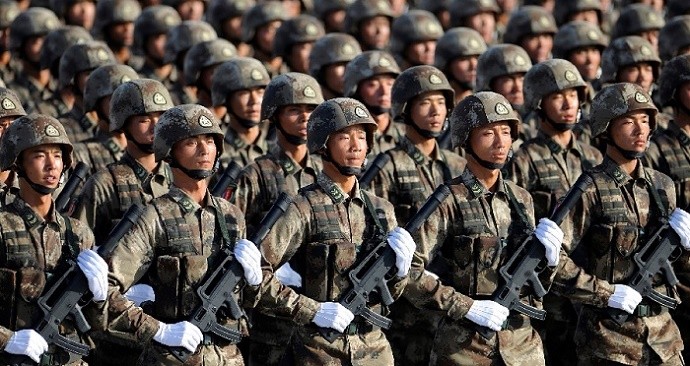 China's Defense Ministry has said the military will hold live-firing drills near the Myanmar border. The exercise will take place near to where stray bombs from a Myanmar warplane recently killed five Chinese.
China's People's Liberation Army (PLA) will soon begin live-fire military drills in the southwestern province of Yunnan, just across the border from Myanmar's conflict-torn Shan State region of Kokang, official media reported on Monday.
The mountainous area where the exercise will be carried out on China's southwestern border is directly across from Myanmar's northeastern Shan state, where government troops are battling an ethnic insurgency by Kokang rebels.
Chinese joint army and air-force drill is "scheduled in accordance with training plans," the state news agency Xinhua quoted Chengdu military area command spokesperson Zhao Picong as saying.
"No aircraft will be allowed to enter the airspace of the drill without permission, and vehicles entering the drill areas in [Yunnan's] Gengma and Zhenkang counties will be subject to traffic controls," Xinhua reported, citing a PLA statement.
Tensions are running high in the remote and mountainous border region after the conflict repeatedly spilled across the border into Yunnan since Kokang rebel forces led by Myanmar National Democratic Alliance Army (MNDAA) under ethnic Chinese commander Peng Jiasheng launched a bid to retake the region on Feb. 9.
One effect of the drills will be to seal off the border region to Chinese nationals, many of whom have crossed into Myanmar to help civilians displaced by the fighting, and some of whom have been accused of spying for China and fighting on the rebel side.
Locals will not be allowed to enter the drill areas without a permit, Xinhua reported, adding that the Myanmar authorities have already been informed of the drill.
It said no end date has yet been set for the exercises.
Close bonds
The exercises this week appear to aim to demonstrate China's military control of the area in a bid to deter any spillover of fighting into Chinese territory.
The Kokang region has close ties to China, with its people being descendants of ethnic Chinese migrants who speak a Chinese dialect. Thousands of people have crossed the border to flee the fighting, which is believed to have killed hundreds of people.
China has denied accusations by Myanmar that former Chinese soldiers have trained the rebels, saying that it respects Myanmar's sovereignty.