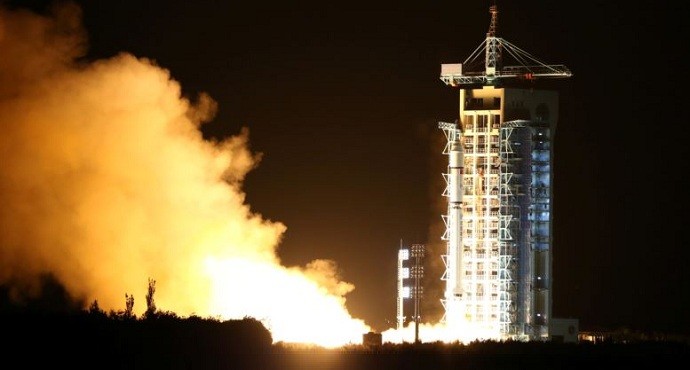 China's new satellite would create the world's largest quantum network
BEIJING — China has launched world's first Quantum Science Satellite, designed to distribute quantum-encrypted keys between relay stations in China and Europe.
China's new satellite is expected to propel China to the forefront of one of science's most challenging fields. It is also set to launch Beijing far ahead of its global rivals in the drive to acquire a highly coveted asset in the age of cyber-espionage: hack-proof communications.
Their satellite's named "Micius," after a fifth-century BC Chinese scientist, and it left earth early on August 16 from Jiuquan Satellite Launch Centre in the Gobi Desert. It was developed by China and Austria. It's the first of an intended global system of 20 such satellites in China's QUESS ("Quantum Experiments at Space Scale") program.
The satellite works by the principles of quantum cryptography, similar to existing fiber-based quantum key distribution networks in Europe, China, and the US. By monitoring noise on the network, the system allows distant parties to obtain identical random strings of data without being intercepted by outside parties, providing the raw material for future encrypted communications.
"In its two-year mission, QUESS is designed to establish 'hack-proof' quantum communications by transmitting uncrackable keys from space to the ground, and provide insights into the strangest phenomenon in quantum physics — quantum entanglement," China's state-run Xinhua news agency reported.
"Quantum communication boasts ultra-high security as a quantum photon can neither be separated nor duplicated," it added. "It is hence impossible to wiretap, intercept or crack the information transmitted through it."
The satellite will enable secure communications between Beijing and Urumqi, Xinhua said, referring to the capital of China's violence-prone far western region of Xinjiang, where the government says it is battling an Islamist insurgency.
"The newly-launched satellite marks a transition in China's role – from a follower in classic information technology development to one of the leaders guiding future achievements," Pan Jianwei, the project's chief scientist, told the agency.