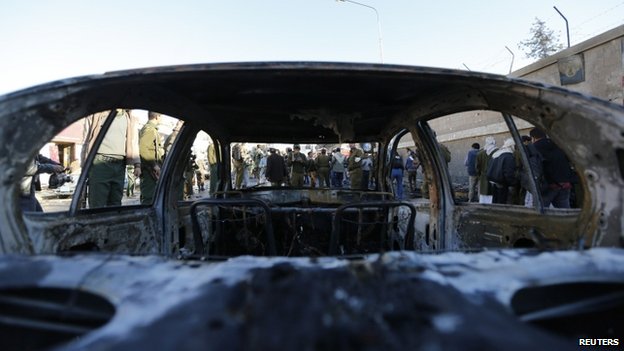 A car bomb exploded outside a police college in Yemen's capital Sanaa on Wednesday, killing about 30 people and wounding more than 50, police sources said, underscoring the country's deteriorating security and a persistent al Qaeda threat.
The bomber parked his vehicle in the middle of the road and then boarded another that was waiting for him, said AbdulBari Al Shamiri, a witness to the explosion.
"As soon as he left the scene, everyone 100 meters from the explosion was killed or injured," Al Shamiri said.
Police recruits were waiting in line at the gates of the Police College when the attack took place, the interior ministry said.
The victims from the latest blast included students at the college and people waiting in line to enroll with the police, the police sources said, as well as passers by.
The explosion was heard across the city and a large plume of smoke was visible near the college in a heavily congested part of the city near the central bank and the defense ministry.
No group immediately claimed responsibility for the attack.
At least 33 people were killed in a suicide attack near a cultural center in southwest Yemen a week ago. The attack targeted the Houthi Shiite Muslim militias, who have managed to drive AQAP from many areas they used to control. In November, the AQAP military chief vowed to carry out fierce attacks against Houthi rebels.