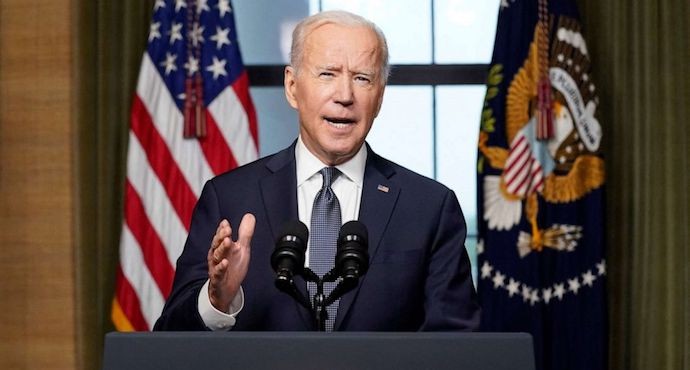 Biden would put together a major package with other nations to rebuild Gaza
U.S. President Joe Biden has said a two-state solution which means a separate state for Palestinians remains the only answer to the conflict between Israel and Palestine.
However, he reiterated that there is no shift in the commitment of his administration towards the security of Israel.
Responding to a question on the shift in the Democratic Party toward Israel, Biden said there was no change.
"There is no shift in my commitment to the security of Israel. Period. No shift, not at all. But I'll tell you what there is a shift in. The shift is that we still need a two-state solution. It is the only answer. The only answer," Biden said during a news conference with South Korean President Moon Jae-in.
Biden said he had spoken with Palestinian President Mahmoud Abbas and had said that the U.S. would "provide for security" in the West Bank. "We renewed the security commitment, as well as an economic commitment to the people on the West Bank," he said.
He also said he had told the Israelis they should "stop in Jerusalem this inter-communal fighting, with extremes on both sides — it has to end."
The president said he would "attempt to put together" a package of support with other nations to rebuild homes in Gaza destroyed by Israeli airstrikes "without providing Hamas the ability to rebuild their weapons system," adding that civilians in Gaza "need the help."
The cease-fire, brokered by Egypt, went into effect on Friday (2300 GMT Thursday).
The 11-day Israeli bombardment of Gaza killed at least 248 Palestinians, including 66 children, with more than 1,900 people wounded. At least 12 people in Israel were killed by the Hamas rocket fire.
US and Israel ties and slight shift in support
The United States, which was the first country to recognize Israel in 1948, has for decades extended unwavering support to Israel by publicly supporting its military attacks and blocking U.N. security council resolutions regarding the Israel-Palestine issue.
Israel is also the largest recipient of U.S. foreign assistance since World War II. The United States has provided Israel $146 billion in bilateral assistance and missile defense funding to date. Currently, U.S. offers Israel $3.8 billion annual military assistance — equivalent to 20 percent of Israel's defense budget.
However, the latest bombardment by Israel on Palestinian territories in May 2021 has prompted a debate in the U.S., signifying a shift in traditional support to Israel in Congress amid increased criticism of Israel's human-rights abuses in Washington.
Progressive Democrats led by Congresswoman Alexandria Ocasio-Cortez also introduced a resolution aimed at blocking the Biden administration's recently announced $735m sale of "precision-guided" bombs to Israel. Representatives Mark Pocan, Rashida Tlaib, Cori Bush, Betty McCollum, Ayanna Pressley, and Ilhan Omar backed the legislation