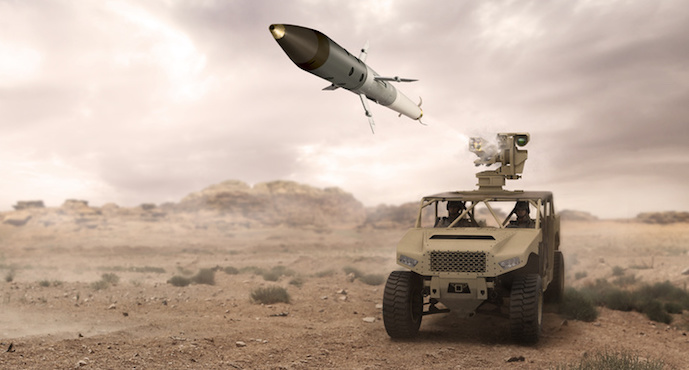 BAE Systems successfully tests ground-launched laser-guided rockets
Europe, News
June 2, 2020
No Comments
BAE Systems succeeds in first tactical configuration ground-launched test of APKWS laser-guided rockets
BAE Systems has successfully conducted the first tactical configuration ground-launched test of its Advanced Precision Kill Weapon Systems (APKWS) laser-guided rockets, the company announced.
The tests were carried out at the U.S. Army's Yuma Proving Ground, in collaboration with the U.S. Navy and Arnold Defense, manufacturer of rocket launchers.
Arnold's FLETCHER 2.75-inch/70mm Weapon System concept – a purpose-built laser-guided rocket launcher for ground vehicles – was used to fire several successful shots.
"The proof-of-concept testing demonstrated the flexibility of APKWS rockets to deliver standoff precision strike capabilities for ground forces, providing warfighters with a unique solution for engaging targets with greater range than small arms fire and without the need for air support," BAE Systems said in a statement.
Precision-strike capabilities available at a low cost that reduce the risk of collateral damage, and offers the flexibility of platform adds value to the weapon. The demand is growing for ground-to-ground precision munitions that provide a safe standoff distance for small ground unit, said Greg Procopio, director of Precision Guidance and Sensing Solutions at BAE Systems.
APKWS laser-guided rockets are the only U.S. government program of record for precision-guided 70-millimeter rockets.
APKWS Rockets
Ground-launched APKWS rockets offer mounted and dismounted systems with a unique way to engage lightly armored targets from different platforms.
The low size, weight, and power features of ground-launched APKWS rockets make it ideal for tactical lightweight vehicles, remote weapon stations, non-standard tactical vehicles, and stationary platforms. This allows warfighters with precision munitions that enhance safety and mission effectiveness.
APKWS rocket bridges the gap between unguided rockets and anti-armor munitions by efficiently achieving accuracy at a low cost in land, air and sea missions.