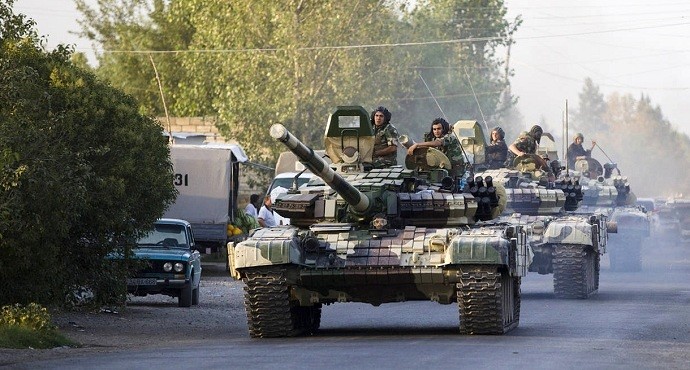 At least 12 Azerbaijani and 18 Armenian soldiers killed during clashes between Azerbaijan and Armenia
Armenia and Azerbaijan reported heavy fighting around the separatist Nagorno-Karabakh region, killing at least 20 servicemen and drawing international calls for an immediate ceasefire.
The conflicts continue, particularly in Aghdara, Tartar, Agdam, Khojavend and Fuzuli towns.
The Azerbaijani Defense Ministry reported shelling and dozens of ceasefire violations by the Armenian armed forces, while the Armenian Defense Ministry has accused Azerbaijani forces of launching a major offensive, involving tanks, heavy artillery, and helicopter gunships.
In a statement, Azerbaijan's Defense Ministry said 12 of its soldiers "became shahids" — Muslim martyrs. The Azerbaijani Defense Ministry, in a statement to the Azeri press agency APA, said one of its Mi-24 helicopter was shot down and that one tank had been destroyed in a mine explosion.
The statement also claimed that more than 100 Armenian forces were killed or wounded and that six tanks and 15 artillery positions were destroyed. The ministry claimed the army had "liberated strategic heights and settlements" in the region. "Six Armenian tanks were destroyed [and] more than 100 Armenian servicemen were killed and injured," it said in a statement.
Armenian President Serzh Sargsyan told his national security council that 18 Armenian soldiers were killed and 35 wounded.
"Armenia carried out another provocation on the line of contact and attacked the positions of Azerbaijan", Azerbaijani President Ilham Aliyev said during phone call with Turkish President Recep Tayyip Erdogan.
Armenia lost more than 10 military personnel in the fighting, an official in the capital city of Yerevan told DPA. Nagorno-Karabakh Republic Defense Army has published photos to provide evidence of the killed soldiers of Azerbaijan Armed Forces in ArmenPress.
The Armenian armed forces claimed to have shot down an Azeri military helicopter in the Nagorno-Karabakh conflict area, Armenian Defense Ministry press secretary Artsrun Hovhannisyan said.
James Warlick, the US co-chair of the OSCE Minsk Group, which is dedicated to finding a negotiated solution to the regional conflict, said the group is planning to meet Tuesday to discuss the conflict.
Azerbaijan retakes land occupied by Armenia
Azerbaijan says it has reclaimed land occupied by Armenia during clashes over Friday and Saturday which saw 12 Azerbaijani soldiers martyred, Anadolu Agency reported.
According to a statement from Azerbaijan's defense ministry, said the army launched operations in the Agdere, Terter, Agdam, Hocavend and Fuzuli regions to protect civilian lives.
Moscow urges immediate cease-fire in Azerbaijan-Armenia border conflict
Moscow is constantly in touch with Armenian and Azerbaijani foreign ministries in light of escalated tensions in the Nagorno-Karabakh region, Russian Foreign Ministry spokeswoman Maria Zakharova said Saturday.
"The Russian Foreign Ministry maintains permanent contact with the leadership of the foreign ministries of Armenia and Azerbaijan," Zakharova was quoted as saying on the Russian Foreign Ministry's website.
Russian President Vladimir Putin also expressed his concern over the ongoing conflicts and called the parties to stop the fighting immediately, said Dmitry Peskov, the Russian presidency advisor.
What is Nagorno-Karabakh conflict?
The conflict between Armenia and Azerbaijan began in 1988, after the predominantly Armenian Nagorno-Karabakh autonomous region announced its secession from the Azerbaijan Soviet Socialist Republic.
Although 95 percent of the Nagorno-Karabakh population is ethnically Armenian, the territory is internationally recognized as part of Azerbaijan.
Nagorno-Karabakh proclaimed its independence in 1991, prompting a war that lasted until a ceasefire agreement was signed in 1994. In September 2015, the conflict escalated, with the sides blaming each other for violating the truce.
The UN Security Council passed four resolutions urging Armenia to withdraw from internationally-recognized Azerbaijani territory. None of them have been enforced to this day. The co-chairs of the OSCE Minsk Group, Russia, France and the US are currently holding peace negotiations.
Nagorno-Karabakh—the disputed border region between Armenia and Azerbaijan—faces an increasing risk of renewed hostilities due to escalating militarization, frequent cease-fire violations failure of mediation efforts. Over the past several years, artillery shelling and minor skirmishes between Azerbaijani and Armenian troops have killed dozens.