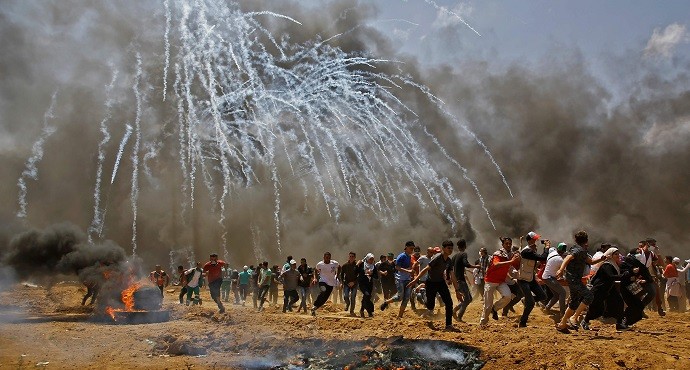 Gaza witnesses its deadliest day of violence as the US shifts embassy to Jerusalem
At least 60 Palestinians were killed by Israeli forces and more than 2,200 others were reportedly wounded Monday after thousands of protesters converged on the fence between the Gaza Strip and Israel as the U.S. Embassy opened in Jerusalem.
It was termed as the deadliest day of violence there since a war in 2014. U.N.'s human rights commissioner says that those who were shot included women, children, journalists, first responders and bystanders.
The Israeli Defense Forces opened fire on protesters approaching the barrier and accused the militant Palestinian group Hamas of "leading a terrorist operation under the cover of masses of people." The military said "firebombs and explosive devices," as well as rocks, were being thrown toward the barrier.
The Israeli military said the demonstration involved 40,000 people "taking part in violent riots" at 13 locations along the boundary.
Israeli Prime Minister Benjamin Netanyahu said the country's military was acting in self-defence against Gaza's Islamist rulers, Hamas. "Every country has an obligation to defend its borders," he said.
The violence erupted Monday, as Israel celebrated the transfer of U.S. embassy to Jerusalem, a city that is claimed by both Israelis and Palestinians, which has long been regarded as an issue best resolved in multilateral peace talks. The U.S. has formally recognized Jerusalem as Israel's capital.
Palestinians claim East Jerusalem as the capital of a future Palestinian state. Many see the US move as backing Israeli control over the whole of the city, which Israel regards as its indivisible capital.
On Tuesday, funerals were held for some of the 58 people killed, coinciding with the day Palestinians call the "Nakba", or "catastrophe", which commemorates more than 700,000 Palestinians who fled or were expelled from their homes in the 1948-49 war surrounding Israel's creation.
Worldwide condemnation of Gaza killings
Israel has faced international condemnation over the deaths, from the UN, UK, France, Russia and others.
There has been widespread international condemnation of Monday's violence and the UN Security Council met Tuesday in response. UN general secretary António Guterres said he is "profoundly alarmed and concerned by the sharp escalation of violence and the number of Palestinians killed and injured in the Gaza protests." He also called for restraint on both sides.
French President Emmanuel Macron condemned the violence against Palestinian demonstrators in Gaza and reiterated his opposition to the move of the U.S. embassy to Jerusalem.
Turkish President Recep Tayyip Erdogan accused the United States of "contributing to the conflict" and of encouraging Israel's violent actions.