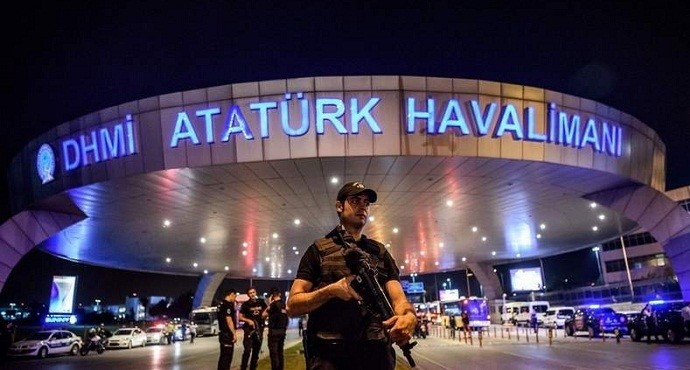 41 dead and 239 injured in horrific suicide bombings in Turkey's biggest and busiest airports
ISTANBUL (Turkey) — At least 41 people were killed and 239 injured on Tuesday in a triple suicide bombing and gun attack at Istanbul's main Atatürk airport, Turkish officials have confirmed.
Police fired shots to try to stop two of the attackers just before they reached a security checkpoint at the arrivals hall at Ataturk airport, Europe's third-busiest, but they blew themselves up.
Istanbul governor's office reports that the death toll has risen to 41, with 239 wounded. Among the victims were 23 Turkish citizens and 13 foreign nationals. More than 100 injured people have been discharged from hospital.
A Turkish official reports that the foreigners killed in the Istanbul attacks include:
• One Chinese national
• One Jordanian
• One Tunisian
• One Uzbek
• One Iranian
• One Ukrainian
• Five Saudis
• Two Iraqis
Videos on social media showed panicked passengers amid sounds of gunfire and the arrival of ambulances. Roads around the airport were sealed off to regular traffic. Pictures posted on social media from the site showed wounded people lying on the ground inside and outside one of the terminal buildings.
There were no immediate claims of responsibility, but Turkish Prime Minister Binali Yildirim said it appeared to have been an attack by Islamic State of Iraq and the Levant (ISIS) militants.
"There is initial evidence that each of the three suicide bombers blew themselves up after opening fire," he told reporters at the airport.
In a statement, Turkish President Recep Tayyip Erdogan said the attack aimed to undermine Turkey, and called for a joint international anti-terror "fight."
"If states, as all humanity, fail to join forces and wage a joint fight against terrorist organisations, all the possibilities that we dread in our minds will come true one by one," Erdogan said.
Witnesses described a scene of chaos. Two South African tourists, Paul and Susie Roos from Cape Town, were at the airport to fly home and were shaken by what they witnessed.
'He was just firing at anyone coming in front of him. He was wearing all black. His face was not masked. I was 50 metres away from him, we ducked behind a counter but I stood up and watched him. Two explosions went off shortly after one another. By that time he had stopped shooting,' Roos said.
A taxi driver, named as Fatih told, 'There were the sounds of gunfire, it was like thunder, then there was a fireball everywhere, my front window blew out, the car in front of me was turned into scrap.'