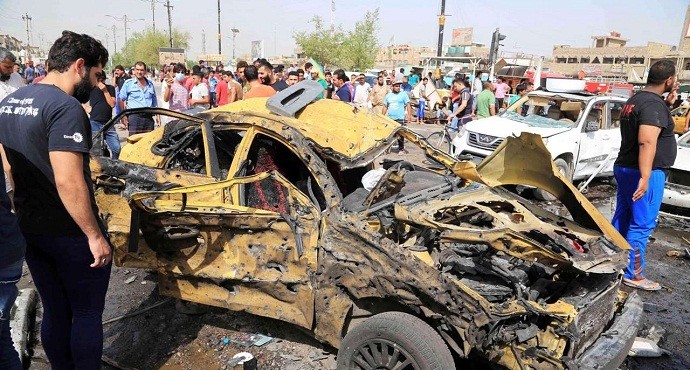 At least 69 killed in latest wave of Baghdad attacks. The latest wave of terror attacks in Baghdad has left more than 200 dead over the past week – the deadliest spate of attacks in the Iraqi capital so far this year.
Iaq's capital Baghdad witnessed another horrible day on Tuesday as three bombings, one after another, killed at least 72 people.
Tuesday's bombings were just the latest in a wave of terror attacks in Baghdad that has left more than 200 dead over the past week.
The latest wave of bombings struck outdoor markets and a restaurant in Shiite-dominated neighbourhoods of Baghdad, killing at least 72 people, officials said – the latest in deadly militant attacks far from the front lines in the country's north and west where Iraqi forces are battling the Islamic State (ISIS) group.
The Islamic State claimed responsibility for one of three bombings that hit Baghdad on Tuesday, which killed at least 69 people and wounded over 100 more, according to the Associated Press.
"Another car bomb, in the mixed Shi'ite-Sunni southern neighbourhood of al-Rasheed, killed six and wounded 21, the sources said, in what a military spokesman described as a suicide attack," the Reuters report adds.
The four separate bombings were a further challenge to the beleaguered government of Prime Minister Haider al-Abadi, who is struggling to prove that his forces can maintain security in Baghdad and elsewhere.
One of the bombings on Tuesday struck an outdoor market in the heavily Shiite district of Sadr City, a frequent bombing target.
The deadliest bombing of the day took place in Baghdad's northeastern Shaab neighbourhood, killing at least 34 people and wounding 75 others. The roadside bomb, followed by a suicide bomber, was claimed by ISIS in an online statement.
Shortly after the Shaab attack, a parked car bomb struck a fruit-and-vegetable market in the Shiite-dominated neighborhood of Dora, in southern Baghdad, killing eight people and wounding 22 others, a police officer said.
The recent attacks came less than a week after a massive bombing in a crowded market here killed more than 90 people on May 11.
The attacks in and around Baghdad killed over 200 people last week, putting pressure on Prime Minister Haider al-Abadi to "resolve a political crisis or risk losing control of parts of Baghdad even as the military wages a counter-offensive against Islamic State in Iraq's north and west with the help of a U.S.-led coalition," as Reuters puts it.
At least 741 Iraqis killed in April 2016
According to the UN, the ongoing violence has killed at least 741 Iraqis in the month of April, of which 410 were civilians while the rest were members of the security forces.  Around 1,374 were injured in acts of terrorism, violence and armed conflict in Iraq in April 2016.
In March, at least 1,119 people were killed and 1,561 wounded.
Baghdad remains the worst-hit area in terms of documented deaths, with 232 civilians killed and 642 wounded in April.