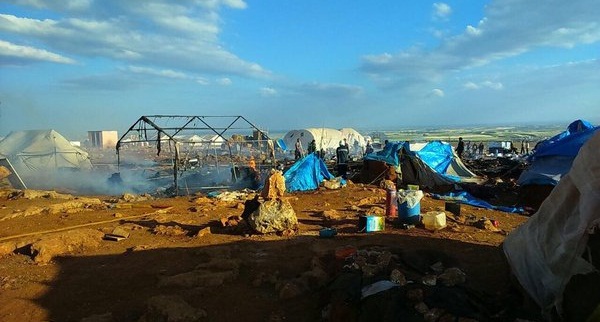 The Syrian Observatory for Human Rights says the camp is located near Sarmada, in northwestern Idlib province, near the Turkish border. It was struck on Thursday afternoon.
The Britain-based Syrian Observatory for Human Rights said 28 died while the Local Coordination Committees, another activist group, said more than 30 were killed.
Footage broadcast by the Shaam Network, an activist-run TV station in Syria, claimed to show the destruction wreaked by the attacks. It added: 'warplanes have raided a camp in northern Idlib… leading to the massacre of civilians, including women and children.
The camp in Sarmada, in rebel-held territory in the northwestern Idlib province, is home to between 1,500 and 2,000 internally displaced people who fled the fighting from the surrounding Aleppo and Hama provinces over the past year, according to a local activist.
The camp is home to hundreds of people who have fled from the surrounding Aleppo and Hama provinces.
Resıdents from Aleppo, Idlib and Latakia in Syria fled their homes because of regime attacks on opposition-controlled areas and sought refuge in the Kamuna camp near Sarmada.
Footage on social media showed charred bodies and men pouring buckets of water on fires that erupted within the camp.
Foto: #Sīrija gaisa spēku uzlidojums bēgļu nometnei #Sarmada pie #Turcija robežas. no @HadiAlabdallah pic.twitter.com/J8BoYFDMl0

— breaking.lv (@BreakingLv) May 5, 2016
The UN has warned that if the nationwide cessation fails, it will be "catastrophic" and could send 400,000 more people heading for refuge at the border with Turkey.