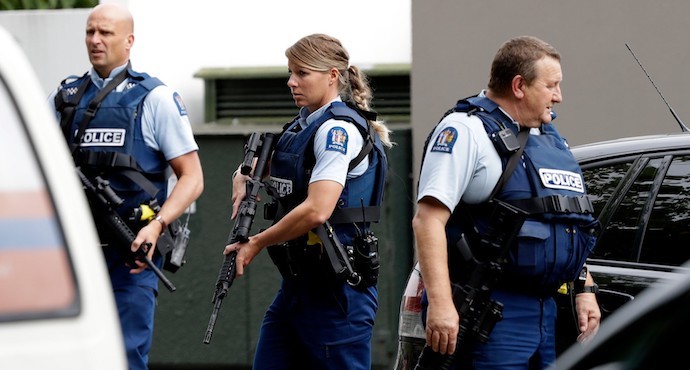 At least 49 killed in Terrorist Attack on two New Zealand mosques, Australian man charged over mosque shootings
Forty-nine people have been killed and at least 20 wounded in shootings at two mosques in Christchurch, New Zealand.
New Zeland Prime Minister Jacinda Ardern described the terrorist attack as "an extraordinary and unprecedented act of violence."
"From what we know, it does appear to have been well planned," she said. "Two explosive devices attached to suspect vehicles have now been found and they have been disarmed."
What has happened in Christchurch is an extraordinary act of unprecedented violence. It has no place in New Zealand. Many of those affected will be members of our migrant communities – New Zealand is their home – they are us.

— Jacinda Ardern (@jacindaardern) March 15, 2019
The mosques on target were the Masjid Al Noor in central Christchurch and another one in suburban Linwood.
The gunman sprayed innocent worshipers inside the Masjid Al Noor mosque in central Christchurch for more than two minutes before running back out to the street, where he takes aim at people down the sidewalk before returning to his car for a different weapon.
Four people – three men and one woman – were in custody Friday evening, New Zealand Police Commissioner Mike Bush said. One of them, reported to be a 28-year-old Australian man with extreme anti-immigrant and anti-Muslim views, has been charged with murder and will appear in court on Saturday.
Bush said the attacks began around 1:40 p.m. and were "very well-planned." Police found two improvised explosive devices in vehicles as the shootings unfolded. One device was defused quickly. Schools were temporarily put on lockdown across Christchurch, which is the largest city on New Zealand's South Island, with a population of about 400,000. Police also advised all mosques in the country to lock their doors.
Australian Prime Minister Scott Morrison confirmed that one of them was an Australian citizen and described the man as an "extremist, right-wing, violent terrorist."
What we know
Police said 49 people are dead after shootings at two mosques.
Man charged identified as 28-year-old Australian Brenton Tarrant
PM Ardern alludes to anti-immigrant sentiment as possible motive
4 people taken into custody; multiple explosives found and defused
Video of shootings broadcasted live by attacker shared on social media