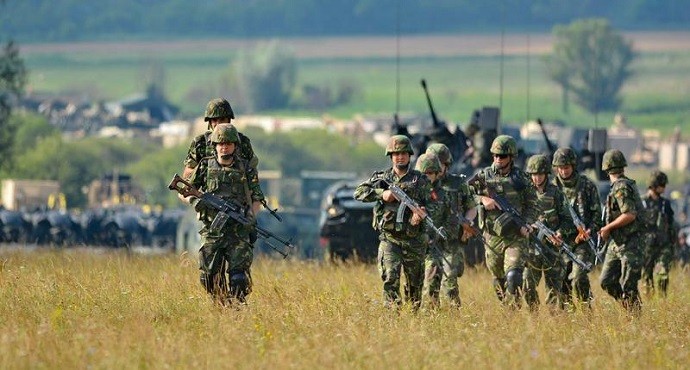 25,000 troops take part in US-led NATO military drills in Eastern Europe
Europe, News, US
July 19, 2017
No Comments
Saber Guardian 17 exercise aims to strengthen multinational force to create a strong Europe
More than 25,000 NATO troops from 20 allied and partner countries are taking part in U.S. Army Europe-led annual exercise taking place in Romania, Hungary and Bulgaria.
The US-led multinational exercise, Saber Guardian 2017, is co-hosted by Romania, Bulgaria and Hungary. It is taking place from 11-20 July.
This year's largest exercise in the Black Sea Region with over 20 NATO and partner countries participating.
A battle featuring 5,000 NATO troops at the Cincu training range in Romania saw U.S. Apache and Romanian helicopters coordinate with artillery on the ground, U.S. Abrams tanks, and 650 vehicles in support of a large infantry movement to halt the advance.
Chairman of the NATO Military Committee, General Petr Pavel, also visited Romania where he met with the President, Mr. Klaus Iohannis, the Minister of National Defence, Mr. Adrian Țuțuianu, and the Chief of General Staff, General Nicolae-Ionel Ciucă. General Pavel also visited the NATO enhanced Air Policing Mission and observed the US-led multinational exercise Saber Guardian 17.
"This brigade will help improve integrated training of Allied units under Headquarters Multinational Division South East. It will thus contribute to ensuring sustained interoperability and readiness, in accordance with NATO standards and enhance regional assurance, deterrence and defence" General Pavel stated.
The exercises, led by U.S. Army Europe, began this week in Eastern Europe involving 25,000 military personnel from more than 20 allied and partner countries.
The largest of the Black Sea Region exercises, Saber Guardian 17 is a premier training event for U.S. Army Europe and participating nations that will build readiness and strenghthen military missions to support the security and stability of the Black Sea Region.
The U.S. is seeking to reassure NATO's European allies concerned about Russia since it annexed Crimea in 2014.
The exercises run until July 20.